Cruising with Mobility Issues
Cruising with a disability requires a little extra effort in the planning stages of the adventure, but there is no reason why any cruiser with mobility issues should not enjoy a cruise as much as anyone else.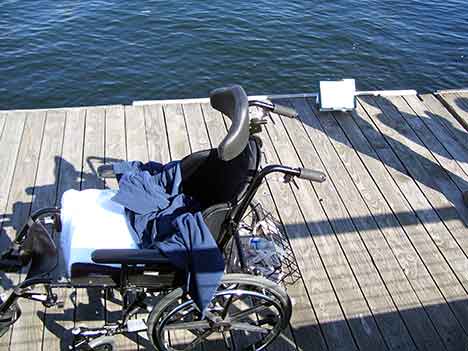 Most cruise lines today, and practically all of the newer cruise ships are now access friendly and offer a wide variety of options.
Some even publish a special brochure detailing facilities for those with disabilities and outlining access information, availability of services such as visual-tactile alert systems for travellers with hearing restrictions, and the provision of equipment such as ship-friendly wheelchairs and oxygen tanks.
Some cruise lines provide special equipment rental and purchase facilities at more than 52 home ports around the world. One of the companies working with many of the world's major cruise lines is Special Needs at Sea, a leading global provider of wheelchair rentals, scooter rentals, oxygen rentals and other special needs equipment rentals.
In fact, Special Needs at Sea is the preferred mobility and oxygen supplier for both Holland America Line and Royal Caribbean International, and also provides assistance for passengers aboard Carnival Cruises, Norwegian Cruise Line, Princess Cruises, Celebrity Cruises, Cunard Cruise Line, Costa Cruises, Disney Cruise Line, Azamara Club Cruises, Crystal Cruises, Oceania Cruises, Regent Seven Seas Cruises and MSC Cruises.
The key ro enjoying your cruise, especially if you have mobility issues, is in planning the cruise.
Ports of call, for example can unwittingly provide a number of obstacles. Several cruise ports of call do not have docks to accommodate most of the new and larger cruise ships and the cruise lines have to rely on tenders to get passengers ashore. For obvious reasons, this is not an ideal situation for those with disabilities or mobility issues - though some cruise lines, such as Holland America Line do offer wheelchair-accessible tender systems.
To be on the safe side, make sure of your itinerary and find out how many of the ports of the call are serviced only with a tender service, and if so, find out if the cruise line of your choice provides access for wheelchairs and those with mobility issues.
Once ashore, the shore excursions may also prove problematic. While many coaches used by tour operators may offer wheelchair lifts, many do not. And although most cruise lines tend to try to arrange tours with more accessible transport, it is very often beyond the control of the cruise lines.
To be on the safe side, it is wise to check with the cruise line before you book and make sure that they are able to confirm the accessibility issues ashore for you.
The same applies to accessibility issues onboard your cruise ship.
Here, just to name a few are some questions to ask in finding out which cruise ship may be best for you :
• How many wheelchair-accessible staterooms are there?
• Are the corridors wide enough to allow 180° turns for wheelchairs?
• Do public rooms feature entrances with gradual inclines?
• Does the cruise line offer early boarding, boarding and departure assistance?
• Does the cruise line provide portable hearing room kits, and amplified telephones in the staterooms?
• For guests who are blind or have low vision, is Braille/tactile signage located about the ship?
• Are service animals permitted onboard?
• Is there accessible gaming and accessible showroom seating?