Tipping on Cruises
There is no more contentious issue about cruising than that of tipping, and the cruise lines vary in their approach to tipping policies.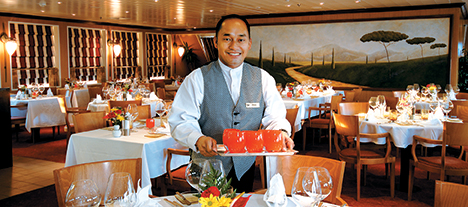 photo courtesy Windstar Cruises
Tips and Advice About Tipping on Your Cruise
Some adopt a "tipping not required" policy but encourage tipping for outstanding service.

Others provide tipping guidelines according to the staff in question. Those that suggest tipping guide lines, like Celebrity, Crystal Cruises, Disney Cruise Line, and Fred.Olsen Cruise Lines usually suggest the following range of dollars per day per passenger:
Assistant Chief Housekeeper $1
Stateroom Service $4 - $6
Assistant Maitre d' $1
Waiter $4 - $6
Assistant Waiter $2 - $3
Butler (where applicable) $4 - $8
Most cruise lines, like Cunard Line, Carnival, MSC Cruises, Norwegian Cruise Lines and Costa Cruises, Oceania Cruises, Princess Cruises, Royal Caribbean Cruise Lines charge an automatic flat fee for service and add it to your onboard account. This can be anything from $8 to $15 a day per passenger depending on the cruise.
And some cruise lines, like Cruise West, The Yachts of Seabourn, Silversea Cruises, Hebridean Island Cruises and Regent Seven Seas Cruises actively discourage tipping.
Gratuities for bar bills and wine checks generally are added automatically at point of consumption, but tipping in the speciality or alternative dining facilities, and for spa services, are usually expected at point of service.
Whatever the policy of the cruise line, however, it is clear that gratuities are a cost you need to consider when budgeting for your cruise. They are one of those unavoidable hidden costs such as port taxes and transfer fees.
There is an argument to be made that the cruise lines should not be relying on the passengers to supplement the service staff's meagre wages, and the typical response is that without tipping, cruise lines would have to increase their cruise fares.
Whatever your opinion, the truth of the matter, rightly or wrongly, is that the service staff do rely on these gratuities.
Cruise lines are very clear about their particular tipping policies and information about it can be found on their web sites and in the materials sent out with the travel documents.