Disembarking from a Cruise
Part of planning for a cruise is knowing what happens at the other end of the journey when you return to port to disembark and make your way home again.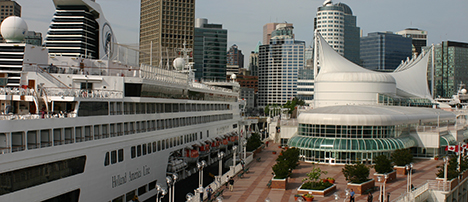 Tips and Advice About Disembarking from a Cruise
Being unaware or unprepared for disembarking procedures can ruin the last few days of your vacation.
Usually two days before the end of a cruise, most cruise lines will issue their guests with a brief questionnaire about their travel arrangements home. Using this information, on the last day of the cruise, usually in the morning, passengers will be given instructions for disembarkation, including customs forms, new luggage tags and exactly when they can leave the ship.
Most cruise lines require that your luggage be packed and set outside your cabin door before you retire.
This may seem odd for first time cruisers, and some passengers have commented to Prow's Edge that they resent the idea of having to pack before they've even had the last night on board.
Seasoned travellers are well used to the disembarking routine and often have their luggage packed and ready outside their door before dinner. Their positive attitude to this procedure is that they are then able to relax for the last 15 hours of the cruise without any worries about packing or luggage.
You need to be sure, however, that you keep your toiletries, medications, and documents with you in your hand luggage because you won't see the packed luggage until you are off the ship the next day.
Depending on your travel arrangements from the port, passengers will be grouped for disembarking by either number or color, and will be called to disembark according to those groupings. This ensures that those with early flights are able to disembark and clear customs in good time.
Those arriving at their home port are generally able to disembark at their leisure.