Types of Cruises

Everything you need to know about different types of cruises is right here at Prow's Edge Cruise Magazine.
In this section we explore various cruise destinations from Alaskan cruises to Caribbean cruises, and discover different types of cruises from last minute cruises to even clothing optional cruises.

There are so many different types of cruises to suit every taste, so many different cruise ships and cruise lines, from luxury to barefoot, no one can legitimately get away with saying - "I don't like to cruise!"
Adventure Cruises
Adventure cruises are not about bingo in the lounge, Las Vegas shows after dinner, or ten different ways to spend your afternoon snorkelling.
Adventure cruises are about exotic destinations, with an emphasis on education – they are about expeditions and explorations, about discovery and experience.
Click here to read more about Adventure Cruises
Alaskan Cruises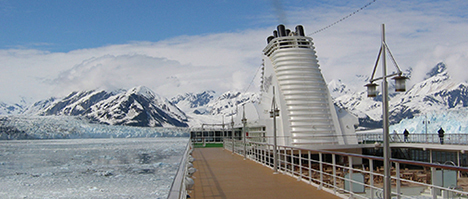 Alaska cruises operate only in the spring to fall months, usually departing from Vancouver, Canada, or Seattle, Washington, USA.
Round-trip Inside Passage cruises focus on the Southeast Alaska Panhandle and the tourist destinations of Ketchikan, Juneau, Sitka, Skagway as well as usually including one of the glacier destinations such as Glacier Bay.
Click here to read more about Alaskan Cruises
All Inclusive Cruises
Is there truly such a thing as an all inclusive cruise? The answer is, probably not. The problem with the term "all inclusive" is that it means different things to different ears. For the most part, all inclusive cruise fares are not that at all. Cruise lines use the term "all inclusive" as a marketing tool, nothing less. To that end it serves its purpose.
Click here to read more about All Inclusive Cruises
Babymoon Cruises
According to travel experts, a "babymoon cruise" (for those of you who may never have heard of such a thing) is a cruise for expectant couples - a last chance fling before the baby arrives. And it makes perfect sense.
There is no other vacation option that is as stress free as these types of cruises which makes the cruise the perfect babymoon vacation.
Click here to read more about Babymoon Cruises
Business Cruises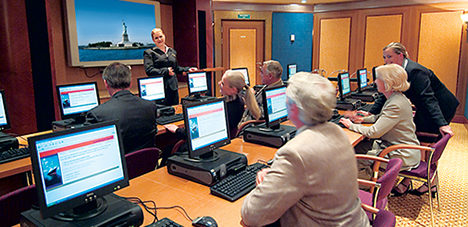 That persistent below-decks hum on luxury liners cruising Pacific and Asian waters doesn't necessarily come from the engine room these days. There's a new sound to be heard – the buzz of on-board boardroom talk as top executives and their senior management staff get down to business.
Cruise lines have sailed into rich waters in these times of global insecurity, discovering a new niche market within a multinational business community unsettled by on shore troubles.
Click here to read more about Business Cruises
Caribbean Cruises

Unlike the Alaskan cruises that take place only in the summer months, Caribbean cruises tend to be more popular through the winter months, from October to March.
A cruise is the ideal way to visit a number of different Caribbean destinations in one trip without having to waste time in packing and unpacking and in travel from island to island.
Click here to read more about Caribbean Cruises
Christian Cruises

It is no surprise that the rapidly changing and growing cruise industry has nurtured another niche cruise, one catering for Christians, giving them the opportunity to enjoy the comfort of a cruise while satisfying their spiritual appetite.
Many of these types of cruises are arranged by churches or ministry organisations. There's a Christian cruise experience for everyone – for singles, families, couples, seniors and groups, even entire congregations.
Click here to read more about Christian Cruises
Christmas Cruises
Christmas cruises appeal for a wide range of reasons - the most cynical of which is that more and more people can't wait to get away for the holidays and leave the traditional family feuding behind.
But that's not really the case for most Christmas cruisers. In fact, a Christmas cruise is the ideal family vacation for that time of year.
Click here to read more about Christmas Cruises
Clothing Optional Cruises

Clothing optional cruises, now surging in popularity, are like almost any other cruise ..... except that you don't have to wear clothes and, a major plus, you can cut back dramatically on your packing.
It doesn't mean you're naked for the entire cruise, of course. Be sure when booking your cruise to establish the exact terms of the cruise: is full nudity allowed everywhere .....
Click here to read more about Clothing Optional Cruises
European Cruises

European cruises, one of the hottest cruise markets, vary in length from one to three weeks, depending on how many cruising grounds – the north Atlantic, northern Europe and the Baltic, the British Isles, Iberia, the Mediterranean and Adriatic seas, even the Middle East and North Africa – are included.

Europe is, in fact, one of the "hot" destinations and remains one of the dominant markets in the cruise industry.
Click here to read more about European Cruises
Family Cruises

Surfing on the ocean, ice skating in the tropics, aqua parks at sea, zip lining through the rain forest, living history lessons in legendary destinations, PlayStations, Wii games and iPod Nanos: Families are discovering that a cruise vacation can be an experience almost impossible to imagine. Onboard surfing pools, ice skating rinks, rock climbing walls, outdoor movies and even bowling alleys are some of the amazing features found on today's cruises.
Click here to read more about Family Cruises
Fitness Cruises

When I first started cruising, any suggestion that a week sailing under the Caribbean sun would include planned exercise, healthy eating and spa treatments would have sent me running for cover.
Let's face it – in those days the gym was a pokey little room in the bowels of the ship, there was no such thing as an on-board spa, healthy eating meant skipping dinner.

Click here to read more about Fitness Cruises
Freighter Cruises
Traveling by freighter is a good alternative to cruise liners for those with time on their hands.
It is a rediscovered and fast growing form of holiday travel. You would be surprised at the many container ships willing to take you to ports and destinations all over the world. Most freighters take from eight to 12 passengers, sometimes only two.
Click here to read more about Freighter Cruises
Gay and Lesbian Cruises
Most cruises may be considered to be "gay friendly" and all of the larger cruise ships, no matter the itinerary, will have regular get-togethers for "friends of Dorothy".
Homophobia is not generally a problem which is why you will always find a number of gay singles and gay couples aboard any cruise.
Click here to read more about Gay and Lesbian Cruises
Hawaii Cruises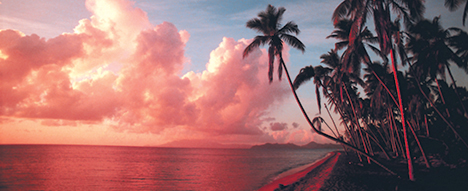 A cruise is the ideal way to see the Hawaiian Islands. Bad weather on one island doesn't mean your whole holiday is ruined, you unpack once only, everything is included, and there is no need to worry about transport from one island to the next – that usually all happens while you're asleep.
An Hawaiian cruise is also perfect for return visits – there is plenty still to see on a second or even third Hawaiian cruise.
Click here to read more about Hawaii Cruises
Honeymoon Cruises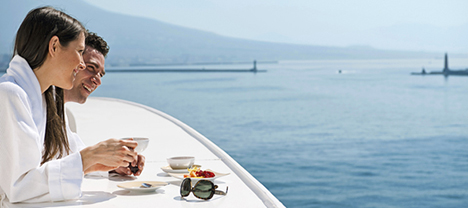 Increasing numbers of honeymoon couples are saying "I do" to cruise vacations – it's a great way to relax after a hectic wedding and the perfect start to a life together "happily ever after".
Some couples choose a "two-for-one" package – a wedding conducted on board while in port on embarkation day, followed by the honeymoon cruise. Cruises are, by nature, virtually all-inclusive, and a romantic vacation anyway.
Click here to read more about Honeymoon Cruises

•
more about Honeymoon Cruises
Last Minute Cruises

There are always opportunities to find last-minute cruise deals. It needs some nerve to wait for the right moment but fortune favors the brave. Cruise lines have no wish to sail with empty cabins and would rather sell them at discounted prices than put to sea (or river) with a ship that isn't at full capacity.
You might have to be flexible in terms of destinations or even choice of cruise lines.
Click here to read more about Last Minute Cruises
Luxury Cruises

An elegant duplex apartment the size of a house; exclusive courtyards and verandahs with private pools, hot tubs and fitness areas; private space large enough to entertain 100 friends; 24-hour butlers and concierge service; a marble-appointed bath for every bedroom: today's cruise ships are redefining luxury with over-the-top suite accommodations unimagined only a few years ago.
Click here to read more about Luxury Cruises
Mediterranean Cruises

The Mediterranean, blessed with long, hot summers, a beautiful coastline, rich history and diverse culture, is the most popular tourist destination in the world – attracting a third of the world's international tourists.
Over 20 modern states have a coastline on the Mediterranean Sea which is fringed by magnificent beaches and islands. So it is a popular target region for cruise lines. Many now commit ships to homeports in the Mediterranean.
Click here to read more about Mediterranean Cruises
New England Cruises
There's no better time to see the vivid fall foliage of New England than in the late summer early autumn ... and there's no better way to get there than on a cruise.
Cruising New England on the east coast of the USA when much of it is blanketed in brilliant hues of gold, yellow, red and orange has become hugely popular. The high season is mid-September and October.
Click here to read more about New England Cruises
New Years Eve Cruises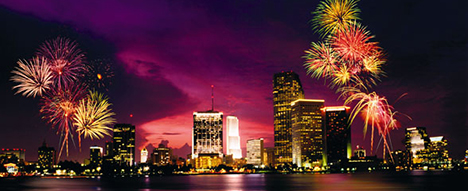 Happy New Year! .... and there's no better place to say it or to live the greeting than on a New Year's Eve cruise enjoying the biggest party of the year on the high seas.
Imagine New Year's Eve with all the fun without the scurrying around and hard work, champagne corks popping and bubbly flowing as your fellow cruise guests sing Auld Lang Syne while the clock strikes midnight.
Click here to read more about New Years Eve Cruises
Nile River Cruises
"A first time visitor to Egypt who wants a classical experience would do well to book a Nile cruise." So advises the Egyptian Tourist Authority.
History began on the banks of the Nile. Those who sailed the famous river were the ancient kings and queens .... Today you can sail the same path aboard any of more than 300 luxury Nile River cruises.
Click here to read more about Nile River Cruises
Panama Canal Cruises

A Panama Canal cruise is on everyone's must-do list, the cruise of a lifetime, and cruise liners have made a Panama Canal crossing big business.
Most of the major lines offer a permutation of cruises, round-trip partial transits or complete one-way transits. The most popular of these types of cruises is still the traditional one-way trans-canal experience – from ocean to ocean, a journey of between 8 and 10 hours.
Click here to read more about Panama Canal Cruises
Repositioning Cruises
Repositioning cruises are typically cruises that relocate the cruise ship after a season in one particular area in time for a new season in another region.
Panama cruises often help transit ships between the summer months in Alaska and the winter in the Caribbean. These repositioning cruises also include what is referred to as the Pacific Coast repositioning itineraries as the ships make their way between Seattle or Vancouver and the Panama Canal.
Click here to read more about Repositioning Cruises
River Cruises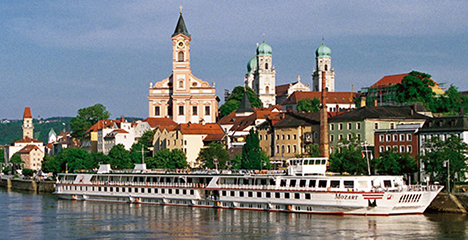 River cruises are exactly what they say they are - cruises that take place on rivers. Sailing the major rivers of the world, from the Volga to Yangtse, the Rhine to the Rhone, as well as the lesser known "little" rivers across the globe, river cruises offer a more intimate experience aimed at properly exploring the places en route. They differ from the usual cruise ship experience in many ways.
Click here to read more about River Cruises
Sailing Cruises
Sail ships have come a long way since early mariners and explorers hoisted a single sail on their tiny Kon Tiki-type log rafts. Today the billowing white sails of many sailing cruise ships carry their guests to many parts of the world in great luxury.
These types of cruises provide a unique alternative to the typical cruise vacation, often carrying passengers to hidden harbors.
Click here to read more about Sailing Cruises
Senior Cruises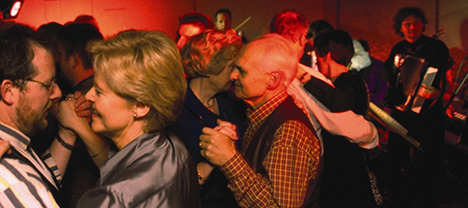 It is the favorite myth that the average age of all cruise passengers is 95, and that if you are under 40 and take a cruise you will stand out like a ballerina at a bikers' convention.
While this is patently untrue of cruises in general - you only have to see the growth of family-oriented cruise liners where everything from rock climbing to discos is geared to the younger demographic – it is true that more seniors than ever are opting for a cruise vacation.
Click here to read more about Senior Cruises
Singles Cruises
The first time I took a cruise on my own, my friends were in awe. "You're so brave!" they said. Then, when they started hearing about the fabulous places I was visiting, they changed their tune slightly. "You're so lucky!" they said instead.
Actually, neither bravery nor luck has anything to do with it. You don't have to be one of those annoyingly gregarious types or even pretend to be one in order to take a cruise on your own, and you don't have to break the bank to afford it.
Click here to read more about Singles Cruises
Small Ship Cruises

A small ship offers the opportunity to explore the world from a uniquely personal perspective.
From Antarctica to the Arctic, the Caribbean to Canada, Mexico to the Mediterranean, they travel the great rivers of Europe and North America, sail along Norwegian fjords and other scenic coasts, cross oceans, explore the globe's most remote destinations, and even embark on world cruises.
Click here to read more about Small Ship Cruises
South American Cruises
Many of the world's natural treasures – magnificent, untouched landscapes, volcanoes and waterfalls, wildlife preserves, rare ecosystems and extraordinary plants, exotic birds and animals – are to be found on South American cruises.
And from the Amazon to Antarctica, Peru to Patagonia, Buenos Aires to Brazil, there is no more enjoyable, convenient and comfortable way to explore the impressively diverse and often remote treasures of South America.
Click here to read more about South American Cruises
Theme Cruises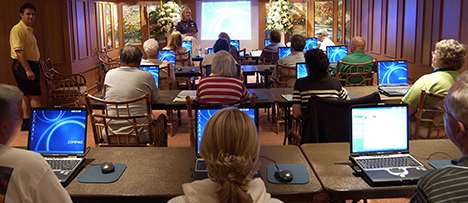 Cruise passengers are a curious, energetic lot. A few may be content to bask in the sun on a deck chair or laze by the pool, but many come on board with an eagerness to learn and discover new interests or further pursue their favorite topics.
South African wine, NASCAR racing legends, vegan cooking or French haute cuisine, killer whale safaris in the Arctic, golf, Tai Chi, Broadway trivia, mastering Adobe Photoshop or video editing: these are just a few of the subjects featured in special interest programs or theme cruises on cruise lines.
Click here to read more about Theme Cruises
Wedding Cruises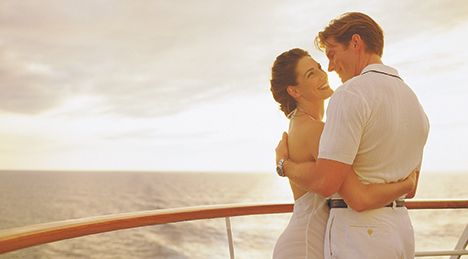 Most cruise lines offer highly flexible wedding packages that feature a memorable way to wed or renew vows which include perks like candlelit wedding chapels, photographers, bridal bouquets, wedding cake, champagne toasts with keepsake flutes and much more.
Depending on the cruise line, wedding and vow renewal packages may be conducted on board, with services conducted by a local officiant, or while in port on embarkation day.

Click here to read more about Wedding Cruises
Winter Cruises

The approaching darkness is a gentle annual reminder that winter is approaching ... and that the cruise lines are standing by to accommodate the yearning not only for sunnier climes but for winter cruises where you'll need your parkas, woolly hats and fur-lined gloves.
The choice is limited for these types of cruises in the colder parts of the world, but wide open for that warm weather cruise experience.
Click here to read more about Winter Cruises
World Cruises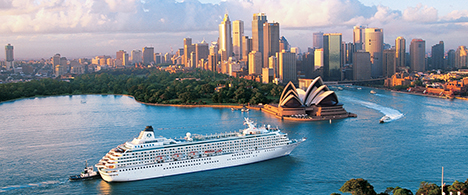 More and more people want to sail around the world, or at least a sizeable portion of it. That's the message from seven cruise lines belonging to Cruise Lines International Association (CLIA). These cruise lines, and others are now offering a growing selection of world cruises. World cruises by definition, are long voyages, sometimes three months or more.
Click here to read more about World Cruises