CRUISE LINE PROFILES
Prow's Edge sails in with over 50 profiles of the major cruise lines offering cruises around the world.
From luxury cruises to contemporary cruise lines, from the chilly Antarctic to the sunny Caribbean, from adventure cruises in Alaska, to river barge cruises along the waterways of Europe, there is a wide selection of cruise lines to choose from.
And every cruise line is different and it's becoming more and more difficult to figure out who is who and what they are all about. The Prow's Edge cruise line profiles give a brief overview of what each cruise line is about and a taste of what they offer.
---
CONTEMPORARY / MAINSTREAM CRUISE LINES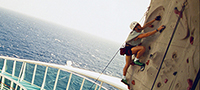 Also sometimes referred to as the mainstream cruise lines, the most popular contemporary cruise lines offer value cruises on generally large ships. These are usually the largest vessels at sea with the largest number of guests. Contemporary cruise lines include Carnival Cruises, Costa Cruises, Disney Cruise Line, Norwegian Cruise Line (NCL), and Royal Caribbean International.

READ MORE ON CONTEMPORARY CRUISE LINES HERE...


---
PREMIUM CRUISE LINES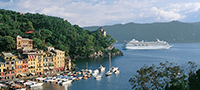 Premium cruise lines offer upscale cruises compared to the contemporary cruise lines, with a more subtle if not subdued ambience. Although not necessarily smaller than their contemporary sisters, premium cruise line vessels typically carry fewer passengers and offer more space per guest. Premium Cruise Lines include Azamara Club Cruises, Celebrity Cruises, Holland America Line (HAL), P&O Cruises and Princess Cruises.

READ MORE ON PREMIUM CRUISE LINES HERE...


---
LUXURY CRUISE LINES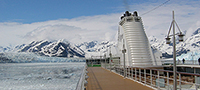 Luxury cruise lines feature quality cruises offering the best of everything. The medium sized vessels, richly but tastefully decorated, are dedicated to giving the passengers space and quality. Suites offer the latest in technology, comfort and service, from designer sheets to high-end toiletries. Luxury cruise lines include Crystal Cruises, Cunard Line, Regent Seven Seas Cruises and Windstar Cruises.

READ MORE ON LUXURY CRUISE LINES HERE...


---
EXCLUSIVE BOUTIQUE LUXURY CRUISE LINES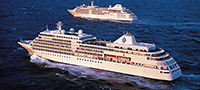 A step even further up the luxury ladder from the already almost decadent luxury cruise lines, exclusive boutique luxury cruise lines are the creme-de-la-creme of cruise lines. Providing the best of everything, these quality cruises offer personalized service in a formal, private yacht-like environment. Exclusive boutique luxury cruise lines include The Yachts of Seabourn, Silversea Cruises, Abercrombie & Kent and Hebridean Island Cruises.
READ MORE ON BOUTIQUE LUXURY CRUISE LINES HERE...