Cruise ship recipe for:
Seaweed-Flaked Fillet of Atlantic Turbot over Zucchini with Stuffed Clams and Champagne Foam
from: Chef Franck Garanger
Here Fleet Corporate Chef Franck Garanger for Oceania Cruises shares a special recipe with Seaweed-Flaked Fillet of Atlantic Turbot for Prow's Edge Cruise Magazine.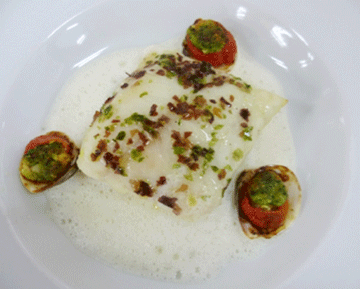 Ingredients:
1200 grams turbot filet, 120-grams each
100 grams shallots
50 grams white wine
50 grams BR-fish stock
50 grams butter
15 grams Bord-a-bord dry Seaweed flakes 4-mm
PM salt & pepper
Zucchini Fettuccine:
400 grams fine sliced zucchini 2-mm thick x 15-cm long x 1-cm large
Pm BR-vegetable monté butter

Clams:
30 each large fresh or frozen clams
50 grams shallots
50 grams white wine
1 tbsp. olive oil
15 pcs peeled cherry tomatoes, seedless cut in half
75 grams butter
100 grams mie de pain
50 grams shredded parmesan cheese
20 grams chopped parsley
20 grams very fine chopped garlic
Pm salt & pepper

Champagne Sauce:
100 grams finely chopped shallots
100 grams champagne
½ pc lemon for juice
PM fresh clam juice from cooking
300 grams BR-fish stock
600 grams cream
100 grams butter
As needed Salt & pepper
Preparation:
• For the clams: sweat the shallots in olive oil and deglazed with white wine, bring to the boil and add the clams. Cover for 1-minute or until clams are open. Remove from the juice and let the clams cool down. Pass the clam juice in fine sieve and reserve for the sauce.

• Combine the butter, mie de pain, garlic, parsley, parmesan and pass in a robot coupe until homogenized paste. Place the clams into half cherry tomatoes and place the cherry tomatoes inside the half shell clams. Spoon over the green mie de pain mixture and press a little to fit the clams shell. Reserve.

• For the fish: butter a roasting pan and spread fine shallots. Place the turbot filet and spread over seaweed flakes. Add little white wine and fish stock and braised in the oven covered at 160°C for 8 to 10-minutes. (add white wine and stock just before cooking only)

• For the zucchini fettuccine: blanch the fetucine in salted boiling water a la minute and toss in vegetable monté butter. Place on the line.

• For the sauce: sweat the shallots in butter, deglaze with the champagne and reduce until dry. Add the lemon juice, clams juice, fish stock and reduce by half. Add the cream and reduce by half. Let marinate for 30-minutes and then pass through a fine sieve. Season to taste.

• A la minute, blend with a hand mixer adding little butter to emulsify and bubbled up.

• Place a nest of zucchini fettuccine in the center of a deep plate. Place the fish over and spoon with the emulsified champagne sauce around. Finish with 3 pieces of gratinated clams as per picture.

For more information about cruises with Oceania Cruises please visit: Oceania Cruises