Cruise ship recipe for:
VEAL MIGNON "RIVER QUEEN"
from: Master Chef Bernhard Zorn
Here Master Chef Bernhard Zorn with Uniworld Boutique River Cruises provides Prow's Edge readers with a recipe for his VEAL MIGNON "RIVER QUEEN"
Veal Mignon "River Queen"
Served with caramelized medallion of Strasbourg Foie Gras
Pinot Noir butter sauce
Tower of red beet and carrots
Chorizo flavored sweet potato mash
Serving 4 Persons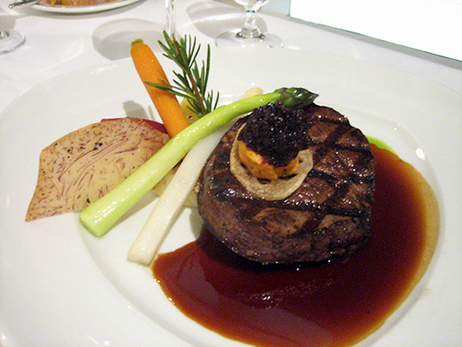 Veal
500 g veal tenderloin medallions, skin removed, cut into 60 g pieces. (Serve each person 2 x 60 g) Place a sauté pan over high heat. Pour I some oil and cook the medallions for approximately 2 minutes on each side. Give into pre-heated oven on 120° C and finish on Temp 47° C and set aside. (keep them warm)
Pan fried & caramelized goose liver (foie gras)
Buy a fresh French foie gras, (Alternate can be also from the duck) clean the foie gras, and slice a 40 g medaillon. Heat up a pa, sprinkle some brown sugar. When the sugar start to get melted, slightly pour in and sear the medaillon on both sides quickly. Take it out on a towel or napkin tissue and sprinkle some fleur de sel. Fleur de sel is a type of sea salt, primarily harvested in Brittany, France. In French, the name means "flower of salt," and as this implies, fleur de sel is very delicate and fluffy. It's with nothing substitutable.

Pinot Noir sauce
Take 2 shallots, fine chopped, sweat in 20 g butter, till golden and add Pinot Noir (50ml). Season with salt and pepper from the mill and reduce to 1/3. Add 1 sprig of fresh rosemary and let simmer for a while. Pour the gravy through a sieve, keep in a food colander and mix with 40 g chilled butter flakes to a creamy and light firm consistence.

Beet rot and carrot tower
Shape should be round style
12 slices of blanched beet roots and carrots
Some potato or parsnip puree
Can be pre-prepared in advance and kept into fridge for use
Prepare one layer, spread some mash and add the 2nd layer. The entire tower should be around 4 layers (2 beetroot, 2 carrots)
Green asparagus spears, parsnips, broccoli, yellow squash, baby carrots
Alternate to above mentioned vegetables you can arrange a "Bouquetiere" of vegetables alike with a colorful arrangement of green asparagus spears, broccoli, butter squash, baby carrots and or parsnips be served with the mignon.
Sweet potato mousseline with a touch of Chorizo
240 g sweet potato, peeled
Sour cream or heavy cream (Substitute: French Crème Legere)
Add some peeled red peppers, well mixed or Aivar as substitute like mixed red peppers (skinless)
Salt and pepper, to taste. Fresh flat parsley, dried chorizo and parsnip for garnish
Cut potato in chunks; boil in salted water until fork tender. Drain sweet potatoes and puree with a small amount of sour cream or heavy cream until all lumps are gone and the mixture is smooth.  Now add some of the red pepper puree and mix in some fine cubed chorizo. Dry in oven on 60°C some thinly sliced chorizo till crisp and stick on the puree when served.
Place a table spoon of puree on the plate, stick in a chorizo crisp, Set the beet root tower, 2 of the Medaillons, sprinkle with sauce. Garnish with a caramelized star anise seed. Serve immediate
The light spicy Chorizo can be substitute also with a typical French Provence saucisson which make a Mediterranean touch and a specific taste together with the Foie Gras.

Bon Appetit
For more information about Uniworld Boutique River Cruises visit:
http://www.uniworld.com