Cruise ship recipe for:
CRAB BRIOCHE THERMIDOR
from: Chef Jean-Marie Zimmermann

Executive Chef Jean-Marie Zimmermann, Global Culinary Ambassador for Cunard Line shares his recipe here for CRAB BRIOCHE THERMIDOR
CRAB BRIOCHE THERMIDOR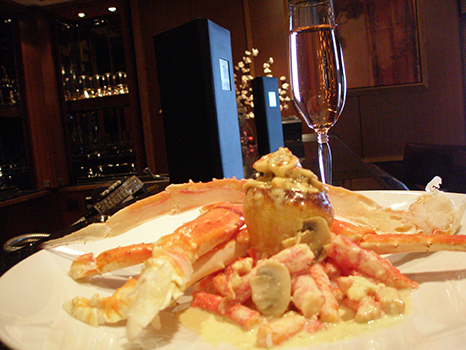 4 diners
Ingredients
4 small brioches (see recupe below)
3.5 oz crab meat
1 egg yolk
1 tbsp fresh crated parmesan
1 tbsp shallots
.5 oz butter
1 tbsp finely chopped shallots
? cup white wine
1 cup chicken stock
3.5 oz Button mushrooms
1 tsp Dijon mustard

Method
Melt the butter and add the finely chopped shallots
Sweat a little but do not color
Deglaze with the wine 
Add chicken stock and reduce
Add the heavy cream and sliced mushrooms and reduce until right consistency
At the last moment whisk the Dijon mustard into the sauce and put aside
Whip heavy cream and one egg yolk and mix into the sauce
Do not reheat the sauce 
Add the chopped crab meat and mix gently
Slice off the top of the brioche and scoop 
out a hollow, then heat the brioche under
a medium grill until golden brown
Spoon the sauce with the crab meat into the brioche
Sprinkle fresh grated parmesan over the dish
and glaze under the grill



BRIOCHE
Ingredients
Yield 1 Brioche Loaf
24 Small Rolls

22 oz flour
.5 oz instant yeast
.5 oz salt
2.5 oz sugar
.5 cup milk
6.5 oz softened butter
4 eggs
Method
In a mixing bowl; combine all the flour, yeast, salt, sugar, milk and eggs.
Add in the softened butter and mix together.
Rest the dough for 30 minutes.
Mould into desired shape and set aside for proving.
Egg-wash the brioche.
Bake in a pre-heated oven at 180°C: if a brioche loaf for 40 minutes; or if brioche rolls for 10-12 minutes.
---
For more information about Cunard Line visit:
www.cunard.com/