Cruise ship recipe for:
LEMONGRASS CURRY SOUP
from: Chef Chef Stefan Wilke
For our readers aboard Prow's Edge Cruise Magazine, Chef Stefan Wilke shares his recipe for a LEMONGRASS CURRY SOUP
LEMONGRASS CURRY SOUP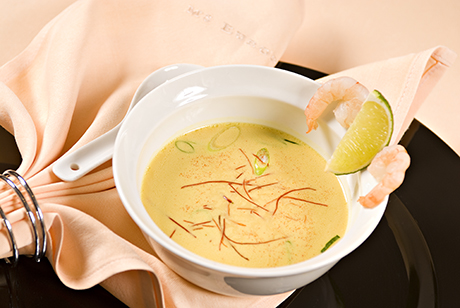 Ingredients:
1 pound of lemongrass
4 tablespoons of Madras curry powder
1/2 pound of shallots diced
7 ounces of while wine
34 ounces of chicken bouillon
27 ounces of cream
a little honey
the juice of 6 limes
4 tablespoons of butter
corn flour ( add based on the consistency you want)
a pinch of sugar
olive oil for sautéing
2 tablespoons of white balsamic vinegar
freshly ground salt and pepper
Optional:
Fried shrimp and peeled shrimp
1 finely chopped spring onion as a garnish
Chili strands for garnish
Hammer the lemongrass with a meat mallet until tender, or chop it finely. Gently saute the curry powder, shallots and lemongrass in a little olive oil. Pour in the white wine, add the chicken bouillon, bring to a boil, and simmer under low heat for 30 minutes. Pass the stock through a fine sieve before reducing over a low heat for another 10 minutes. Now add the cream, and bring to a boil again briefly before adding the honey, sugar, balsamic vinegar and lime juice to taste and then stir in the butter and corn flour to achieve your desired consistency. Just before serving, make the soup frothy using a hand blender. Put in warmed soup plates. Garnish with finely chopped spring onions, strands of chili and salt and pepper.
For a special touch, a little fried shrimp might be added to the soup, and a peeled cooked shrimp pr tow may be hung on the rim of the soup bowl.
Serves 8 people.

For more information visit the Hapag-Lloyd website at: www.hl-cruises.com