Recipe for the Captain's Table
from Chef Sarah Swan
Chef Sarah Swan, head Chef aboard the Maine Windjammer Association schooner – Angelique - provides Prow's Edge readers with a tasty recipe for a Harvest Stuffing.
Harvest Stuffing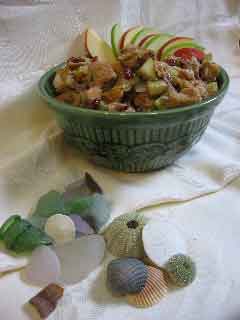 Photo: Harvest Stuffing - by Georges Nashan



2 T. olive oil
4 c. each of chopped red onion and celery
2 T. minced garlic
2 T. dried thyme
2 t. dried sage leaves, crumbled
12 c. cubed molasses bread, toasted
2 Granny Smith apples, diced
1 c. dried cranberries
1 c. dried apricots, diced
2 c. chicken broth
salt and pepper, to taste
Heat oil then stir in onions, celery, garlic, thyme, and sage and cook over medium-low heat for 15 minutes. Add bread, apples and dried fruits.

Toss well. Drizzle the broth over the mixture to moisten as desired and season with salt and pepper.
Rinse the cavity of the bird with cold water. Season the cavity with a sprinkling of salt. Loosely pack the cavity with the stuffing leaving at least an inch of unfilled space at the opening. Sew or skewer the opening shut. Then, truss the turkey, drying it thoroughly. Set the bird breast up in the roasting pan. Follow instructions according to your preferred roasting recipe, making adjustments for weight of the turkey. Once the meat is cooked, open the cavity and enjoy the stuffing.
For more information about Maine Windjammer Association visit:
http://www.sailmainecoast.com/