Cruise Ship Recipe for
CHICKEN MARBELLA
from: Chef Paul Dorr
Chef Paul Dorr aboard the Maine Windjammer Association's The Schooner Nathaniel Bowditchtook shares his recipe for Prow's Edge Cruise Magazine for CHICKEN MARBELLA
CHICKEN MARBELLA
This is a beautiful and aromatic dish that can easily be expanded to feed a larger crowd. It is just as delicious the next day.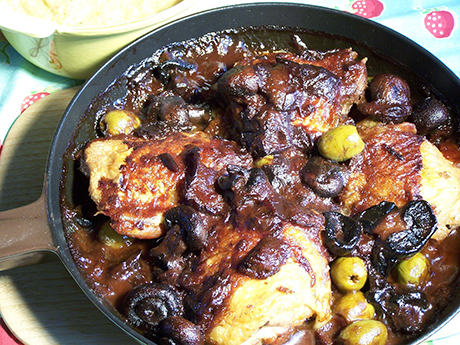 Photo: Paul Dorr
Ingredients:
8-12 chicken pieces, thighs, drumsticks and split breasts
4 cups red wine
7 tablespoons olive oil, divided
1 cup sliced red onion
2 teaspoons minced fresh thyme
Coarse salt, to taste
Black pepper, to taste
2 cups small whole white mushrooms
2 tablespoons flour
1 ½ cups large pitted prunes
1 ½ cups stuffed green olives
Putting it all together :
Combine the red wine, 4 tablespoons of the olive oil, red onion and thyme in a large non-reactive bowl. Marinate the chicken overnight or for at least 4 hours in the refrigerator. Remove the chicken from the marinade. Strain the marinade and set aside, discarding the solids.
Pat the chicken dry and sprinkle on all sides with salt and pepper. Heat the remaining 3 tablespoons of olive oil in a large, deep skillet. Sauté the mushrooms in the hot oil until browned. Remove the mushrooms, leaving behind any oil.
Sear the chicken in the skillet until browned on all sides. Remove the chicken from the pan, leaving behind any oil and drippings.
Whisk the flour into the drippings and cook 2 to 3 minutes. Whisk the strained marinade into the flour. Bring to a boil and add the chicken, mushrooms, prunes, and olives. Simmer for 20 minutes, or until chicken is cooked through. Remove the chicken to a serving platter and keep warm. Continue to simmer the sauce until it has thickened to a gravy-like consistency. Serve over rice, polenta or egg noodles
For more information about the Schooner Nathaniel Bowditch and the Maine Windjammer Association visit www.sailmainecoast.com or call 800-807-WIND.