3 Recipes for the Captain's Table
from Chef Angel Choez
Chef Angel Choez, Executive Chef aboard the M/Y Grace of Quasar Expeditions provides Prow's Edge readers with three recipes for the Captain's Table inlcuding ANDEAN POTATO & CHEESE SOUP (Lorca de Papa), GALAPAGOS SPINY LOBSTER CEVICHE (Ceviche de Langostino de G
alápago
s) and PAN ROASTED SPECKLED SCORPIONFISH IN LEMON BUTTER & CAPERS SAUCE (Pez Brujo en mantequilla de
limón y alcaparra
s)
Andean Potato & Cheese Soup (Locro de Papa)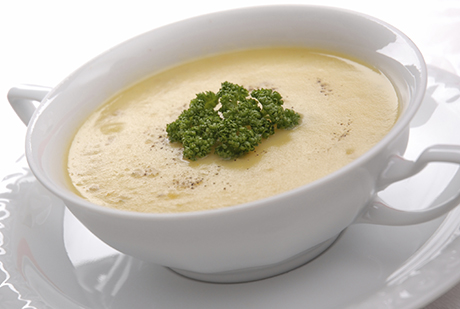 Preparation time: 45 minutes to 1 hour.
Servings: 4 to 6
Ingredients:
Oil or butter -- 1/4 cup
Onion, minced -- ½ cup
Garlic, minced -- 3 to 4 cloves
Optional: 2 aji amarillo (yellow chili peppers) to give soup more color and make it spicier
Andean potatoes, peeled and diced -- 1 1/2 to 2 pounds
Water or stock -- 4 cups
Milk -- 1 cup
Salt and pepper -- to taste
Queso fresco or mozzarella cheese, shredded -- 1 cup
2 fresh avocados
Toasted small korn kernels


Method
Heat the oil or butter over medium flame in a large pot. Add the onion, grlic and chopped chilis. Simmer until the onion is translucent.
Stir in the potatoes, water or stock, milk, salt and pepper and bring to a boil. Reduce heat to low and simmer until potatoes are falling apart, 30-45 minutes.
Mash the potatoes up with the back of a spoon to thicken the soup, leaving it a little chunky. Stir.
Remove the soup from heat and stir in the cheese.
Add the avocado slices to the soup.
Serve immediately with toasted kernels on the side.
Galapagos Spiny Lobster Ceviche (Ceviche de Langostino de Galápagos)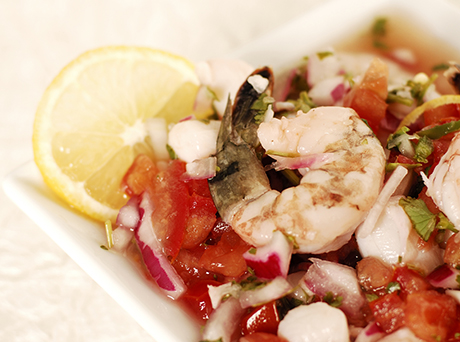 Preparation time: 15 minutes to prepare, 3-4 hours to let sit.
Servings: 5
Note: Always use the freshest seafood possible. Make the ceviche the same day you purchase fresh seafood.
Ingredients
2 ½ lbs of Spiny Lobster tails (or regular lobster, shrimp or jumbo shrimp), cut into 1/2 inch pieces.
1/2 cup of fresh squeezed lime juice
1/2 cup of fresh squeezed lemon juice
1/2 of fresh red onion, finely diced
1 cup of chopped fresh seeded tomatoes
1 serrano chili, seeded and finely diced
2 teaspoons of salt
A dash of ground oregano
A dash of tabasco or a light pinch of cayenne pepper
Fresh cilantro
1 fresh soft avocado
Toasted korn kernels
Method
In a casserole dish, either Pyrex or ceramic, place the lobster, diced onion, tomatoes, chili, salt, tabasco, and oregano. Cover with lime and lemon juice and stir until all the ingredients are blended together.
Let sit covered in the refrigerator for an hour, then stir again, making sure more of the fish gets exposed to the acidic lime and lemon juices. Let sit for 2 to 3 more hours, giving time for the flavors to blend.
Note: During the marinating process the fish will change from pinkish and translucent, to whiter in color and opaque.
Serve with chopped cilantro on top and slices of avocado with toasted korn kernels on the side.
Pan-Roasted Speckled Scorpionfish in Lemon Butter & Capers Sauce (Pez Brujo en mantequilla de limón y alcaparras)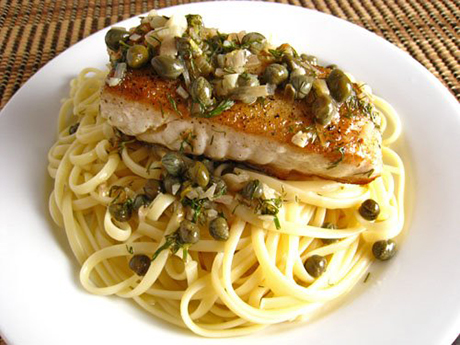 Preparation time: 30 minutes.
Servings: 4 to 6
Ingredients:
1/2 tablespoon olive oil
1/2 tablespoon butter
2 speckled scorpionfish fillets (about 2 ½ lbs) – can also use halibut or sea bass
Salt and pepper to taste
1 shallot (chopped)
2 garlic cloves (chopped)
1/2 cup of white wine
2 tablespoons capers
1 tablespoon butter
1 lemon (zest and juice)
2 tablespoons dill or parsley (chopped)
Directions:
1. Heat the oil and melt the butter in a pan.
2. Season the scorpionfish with salt and pepper.
3. Add the fish to the pan and cook until lightly golden brown on both sides, about 3-5 minutes per side.
4. Set the fish aside.
5. Add the shallots to the pan and saute until tender, about 3-5 minutes.
6. Add the garlic and saute until fragrant, about 1 minute.
7. Add the white wine and deglaze the pan.
8. Simmer to reduce the sauce a bit.
9. Turn off the heat and add the capers, butter, lemon and dill or parsley.
Serve the fish over a bed of fetuccini pasta with a little olive oil. And top the fish with the lemmon butter and capers sauce.
For more information about Quasar Expeditions visit:
www.galapagosexpeditions.com