Cruise ship recipe for:
VEGETARIAN BLACK BEAN CHILI
from: Chef Rudi Sodamin
Chef Rudi Sodamin shares a receipe here from the latest Holland America Line "A Taste of Celeberation Cookbook" - a perfect dish for Super Bowl Sunday.
VEGETARIAN BLACK BEAN CHILI
1 pound dried black beans, soaked overnight
1 (28-ounce) can whole plum tomatoes (with juice) roughly chopped
1 large onion, chopped
2 medium carrots, chopped
2 stalks celery, chopped
1 tablespoon minced garlic
2 tablespoons chili powder
2 teaspoons ground cumin
4 vegetable bouillon cubes
1 orange, scrubbed well and quartered (with peel)
2 teaspoons Tabasco hot pepper sauce
1/2 cup chopped fresh cilantro or flat-leaf parsely for garnish


1: Rinse the soaked beans and place in a large pot. Cover with water to 1 inch and bring to the boil. reduce the heat and simmer, uncovered for 1 hour.
2: Add the remaining ingredints except for the Tabasco and cilantro. Continue to simer for 1 1/2 hours longer or until the beans are tender (if necessary, add more water to keep the beans from sticking).
3: Remove the orange quarters from the chili. Season with Tabasco and divide the chili among bowls and sprinkle with cilantro.
'A TASTE OF CELEBRATION' COOKBOOK BY HOLLAND AMERICA LINE MASTER CHEF RUDI SODAMIN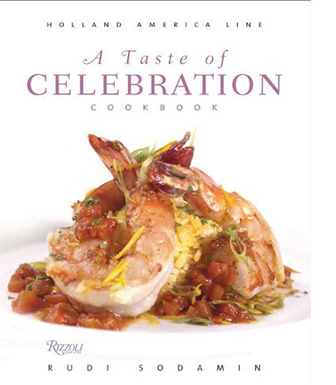 Holland America Line's Master Chef Rudi Sodamin has written his third cookbook, "A Taste of Celebration," which completes the Holland America Line Culinary Signature Collections cookbooks, published by Rizzoli. The first two titles are Sodamin's "A Taste of Excellence" and "A Taste of Elegance."
"A Taste of Celebration" is filled with Sodamin's inspired recipes for complete menus — from appetizers to desserts — for 16 celebratory occasions. These include 11 holidays: Valentine's Day, Passover, Easter, Mother's Day, Memorial Day, Father's Day, Fourth of July, Thanksgiving, Hanukkah, Christmas and New Year's Eve. Also included are recipes for a Captain's Dinner, Master Chef's Dinner (a Holland America Line signature event), Super Bowl Sunday, birthday or anniversary celebration and a cocktail party. All of the menus feature distinctive four-star favorites from Sodamin's extensive recipe collection.
"Once again, Master Chef Rudi Sodamin has produced an original and extraordinary cookbook that will inspire our guests and food lovers to create sumptuous meals on special occasions," said Richard D. Meadows, CTC, executive vice president, marketing, sales and guest programs. "Rudi's distinctive style and innovative ideas have earned Holland America Line numerous culinary awards and set the standard in premium cruise cuisine."
The new cookbook is designed to motivate readers to create memorable meals to celebrate their own special occasions. It features tantalizing photos of each dish to complement the mouth-watering recipes. Sodamin also offers helpful hints from purchasing ingredients to preparing the dishes.
For more information about Holland America Line visit the web site at
http://www.hollandamerica.com