Cruise ship recipe for:
GRILLED LOBSTER ASIAN STYLE
from: Chef Prom Nhorn

Chef Prom Nhorn of Pandaw River Cruises shares 3 of his favorite recipes with Prow's Edge Cruise Magazine
– GRILLED LOBSTER ASIAN STYLE, GREEN MANGO SALAD WITH FRIED FISH and BANANA FRITTERS
GRILLED LOBSTER ASIAN STYLE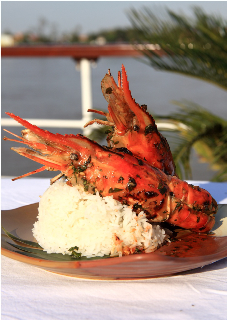 2 big river prawns
1 tablespoon soya sauce
1 tablespoon oyster sauce
3 clove of garlic (chopped)
½ tablespoon chili oil
½ tablespoon coriander (chopped)
½ tablespoon basil leaf (chopped)
A pinch of salt
1 teaspoon chicken powder
½ tablespoon sugar
Method
Cut lobster at the back side from head to tail and devine
Put all ingredient in a bowl Mix well, season to taste
Marinate lobster with the sauce and grilled until golden
Bake lobster in oven about 15 min
• Serve with steamed rice



---
GREEN MANGO SALAD WITH FRIED FISH
Fish fillet (any kind of white meat fish) 1 kg
Green mango (grated) 1 kg
Carrot (Grated) 300 g
Onion (Julienne) 200 g
Slice shallot 40 g
Roasted peanut (pound) 60 g
Basil leaf 10 g
Fish sauce 4 table spoons
Sugar 1 table spoons
Salt
Flour 80 g
Water 50 ml
Egg 1 pcs
Method
Put flour and egg with water in a bowl mix well.
Cut the fish fillet into strip about 2 cm and mix with flour and deep fried the fish until crispy.
Peel green mango and wash use grater to grate mango, marinated with salt about 15 mm and squeeze the juice out.
Put fish sauce in a small bowl with sugar stir until the sugar melt.
Put mango, carrot, onion together and pour the sauce to mix season to taste.
Prepare the plate and put the salad on the plate and sprinkle slice shallot, basil leaf and roasted peanut on top.


---
BANANA FRITTER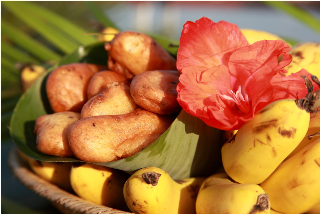 Batter
Cake flour 500 g
Custard powder 150 g
Sesame seed
Baking powder ½ tea spoon
Sugar 200 g
Coconut milk 350 ml
Egg whole 2 pcs
Water 150 ml
Method
Put all ingredient in a bowl mix well.
Use Banana ripe, peel and cut length wise.
Put cooking oil 3 litters in a deep fried pan and heat the oil until hot.
Put banana in the batter and deep fried until the banana become golden colour and crispy.
Normally we serve with honey or syrup.
---
For more information about Pandaw Cruises visit http://www.pandaw.com/