Types of Cruises - Business Cruises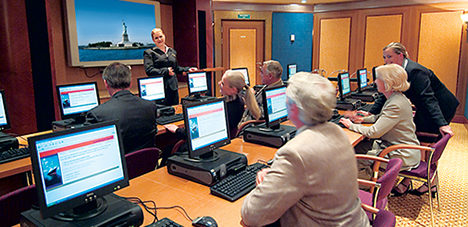 BUSINESS CRUISES
by Robert Tilley
That persistent below-decks hum on luxury liners cruising Pacific and Asian waters doesn't necessarily come from the cruise ship engine room these days.
There's a new sound to be heard – the buzz of on-board boardroom talk as top executives and their senior management staff get down to business.

Cruise lines have sailed into rich waters in these times of global insecurity, discovering a new niche market within a multinational business community unsettled by onshore troubles.

Where better place to meet in undisturbed comfort and security than on the high seas? These types of cruises are hardly a new idea – some spectacular business and political deals have been concluded far from shore, on luxury yachts cruising neutral waters. But now at least five shipping lines have developed the concept as a permanent addition to their luxury cruise programs.
All five pioneered on-board technology for business clients who don't want to switch off entirely on a cruise. Cabins were wired for internet access and room was even found for small business centers, sometimes at the cost of taking over space previously devoted to leisure activities.
The Norwegian Cruise Line (NCL) went one better, providing passengers with remote wireless internet access, known as "wi fi". This facility opened up the possibility of turning cruise ships into floating boardrooms, where participants could stay in constant touch with the world beyond the horizon.
Three ships of the Malaysian line Star Cruises – two of which permanently sail East and Southeast Asian waters – are fully equipped for corporate use, and the company has a special department to advise companies and organize on-board business conferences, seminars and incentive programs.
Star Cruises' SuperStar Leo and SuperStar Virgo are vast liners, each with accommodation for 1,966 passengers, but corporate clients are guaranteed a distraction-free environment in which to conduct business.
The guarantee is completely watertight in the case of The Yachts of Seabourn, whose three ships - Seabourn Pride, Seabourn Legend and Seabourn Spirit - each accommodates only 208 passengers.
It's not all hard work on a Seabourn ship, though - pop star Sir Cliff Richard chartered one for his 60th birthday bash. Full ship charters offer Seabourn the opportunity to custom design an individual itinerary and onboard programme for these types of cruises, from flying a company flag to specially-designed daily programs, entertainment and shore excursions.
The designers of the Queen Mary 2 made space in the vast ship not only for a business center but seven classrooms which can be interconnected for symposiums or corporate teach-ins.
Crystal Cruises claim to go one up on competing shipping lines by combining their on-board computer services with a unique classroom program for business clients who want to keep up with the latest technology.
The program, neatly labeled Computer [email protected], is a curriculum of 30 courses, ranging from basic computer skills to advanced digital photo-finishing and web design.
Photo courtesy Cunard Line