Types of Cruises - Senior Cruises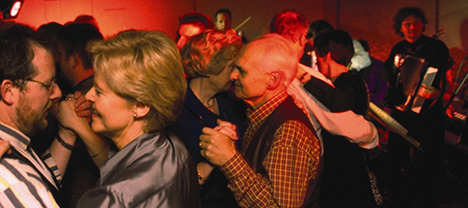 SENIORS ON SENIOR CRUISES

Cynics say that all cruises are senior cruises.
And it is the favorite myth that the average age of all cruise passengers is 95, and that if you are under 40 and take a cruise you will stand out like a ballerina at a bikers' convention.

While this is patently untrue of cruises in general – you only have to see the growth of family-oriented cruise liners where everything from rock climbing to discos is geared to the younger demographic – it is true that more seniors than ever are opting for a cruise vacation.
In fact, recent travel statistics show that of the top ten vacation preferences for those over 50, six were for cruises. Their preferences, however, were for specific types of cruises with specific types of cruise lines.

Where we once assumed that all cruises were for all seniors, the seniors themselves are ringing in the changes and telling the cruise industry that they don't want just any cruise, and in this strange situation of supply and demand working together, the cruise lines are learning to cater to the senior traveler's modern needs.
One of the most interesting changes in senior preferences for cruising is in the demand for "learning programs". Seniors today are no longer satisfied with the token lecture on one afternoon of a cruise. They want enrichment programs and the chance to learn everything, from computers to political history.
In response to this demand, many cruise lines like Crystal Cruises have introduced new learning programs, and other cruise lines, like Swan Hellenic, which have always recognized the importance of "port" information, are increasing the profile of their onboard experts and lecture series.
Seniors are also demanding more interesting itineraries to more exotic places. They have the time in their retirement to travel there, and they do not wish to sit though yet another Caribbean cruise to the usual islands.
In response, the cruise lines have increased their itineraries to what were once unusual destinations, like Antarctica and the Black Sea. It's no longer unusual to wave your grandmother off on her cruise to Chile, or Deception Island. Times have changed indeed. The seniors have spoken and the cruise lines are rushing to cater to them.
World cruises are becoming more popular and it's the seniors who are making them popular. The seniors are the ones with the time to take three months to circle the globe.
Facilities on board these types of cruises are also changing to meet the new demand.
While state-of-the-art fitness equipment and exercise programs were introduced to tempt the "crazy" fitness fanatics and image conscious yuppies of the 1990s, it is the seniors now who know as much about fitness regimes, yoga and Pilates as their grandchildren. To cater to them, it is not unusual to find wellness programs and senior-friendly exercise programs on board these days.
The same applies to the dining options and dietary considerations aboard most cruise ships. Where it is the younger generation that liked to think they were the innovators of food consciousness, the seniors today are more than likely to know more about low sodium, low calorie diets than their children who have slipped back to the ways of the Big Mac. Without arguing about which came first, the chicken or the egg, and who actually started the trend of better dining on board ship, cruise lines are now offering better dietary options and continue to strive to cater for all types of specialty requirements.
Who ever made the demand first, the problem of diet is no longer a problem for senior travelers.
Nor is accessibility for disabled passengers, and with new laws recently brought into effect to make such accessibility even less of a problem, it looks as if yet another barrier has been lifted. Princess Cruises even publishes a brochure called Love Boat Access that informs passengers about their wheelchair-accessible cabins, wheelchair gangway mechanism, Braille elevator buttons, visual smoke detectors, door knocker sensors, and text telephones.
So, if you are a senior looking for an enriching cruise to somewhere new and exotic, with a full complement of fitness activities, spa therapies and dining options, take note: the cruise lines are listening. You are back in control.

photo courtesy Hurtigruten