Types of Cruises - River Cruises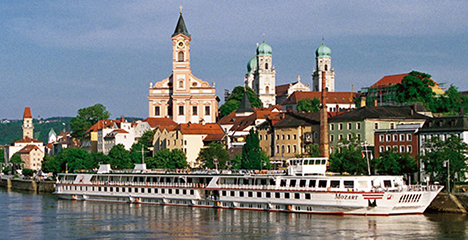 RIVER CRUISES

River cruises are exactly what they say they are – cruises that take place on rivers and they are now one of the two main growth sectors of the cruise industry.
Sailing the major rivers of the world, from the Volga to Yangtze, the Rhine to the Rhone, as well as the lesser known "little" rivers across the globe, river cruises offer a more intimate experience aimed at properly exploring the places en route.
They differ from the usual cruise ship experience in many ways. The ships are smaller than usual, or they would not be able to navigate the more shallow and tighter routes. This gives them a more intimate feel but it does mean that they offer far fewer on board entertainments and luxuries.

Accommodation also tends to be less lavish on these types of cruises than on the grander, ocean going vessels. Balconies are rare, and bathrooms are functional rather than spa like.

Having said that, however, many of the river cruise lines are now offering new ships that are more luxurious and with more upscale, with larger accommodations.

The emphasis of a river cruise is on the destinations and what there is to see on shore. On board activities reflect this in the form of lectures from visiting and local experts.

As more and more cruisers search for new and exciting destinations, they seem to be turning to the world of river cruises for more options. In fact, there is a marked increase in the awareness amongst both cruise travel agents and passengers about river cruises.

One of the attractions of a river cruise is in "value for money". In a recent survery (2010) carried out by the Cruise Lines International Association Inc, cruise travel agents reported that river cruisers are demanding greater value, and have higher expectations of quality at an affordable price.
And the the river cruise market is responding, as cruise travel agents see more promotions and greater competition among river cruise lines, with more emphasis on pricing and providing additional value.

Pre- and post-cruise programs are especially popular with the majority of river cruisers, with over 70 percent most likely to add a land stay on to their river voyage.
River cruises can be found all over the world. From the Yangtze River in China to the Nile and Niger Rivers of Africa, from the Danube, Rhine, or Rhone Rivers of Europe to Amazon cruises in South America, to North America's Mississippi River, Columbia and Snake Rivers, the Hudson River and the Great Lakes, and in the California wine country.
The more popular river cruise lines are the AmaWaterways, Cruise West, European Waterways, French Country Waterways, Imperial River Cruises, Pandaw River Cruises, Uniworld, Victoria Cruises, and Viking River Cruises
The scope of the list testifies to the selection on offer for river cruises and to the growing popularity of this type of cruise.