Types of Cruises - Theme Cruises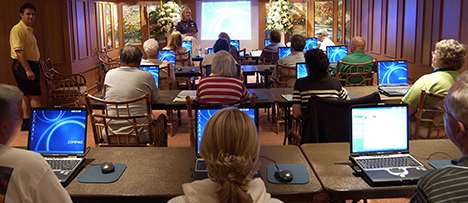 CRUISES WITH SPECIFIC THEMES

Theme cruises used to created around music themes, and food themes - but times have changed in the world of cruises.
Cruise passengers are a curious, energetic lot. A few may be content to bask in the sun on a deck chair or laze by the pool, but many come on board with an eagerness to learn and discover new interests or further pursue their favorite topics.
South African wine, NASCAR racing legends, vegan cooking or French haute cuisine, killer whale safaris in the Arctic, golf, Tai Chi, Broadway trivia, mastering Adobe Photoshop or video editing: these are just a few of the subjects featured in special interest programs or theme cruises on cruise lines.

World War II veterans might visit historic battle sites, speed junkies can ride Harley-Davidsons in the Caribbean, golfers can play some of the world's most famous courses, and antique enthusiasts can find hidden treasures at ports around the globe.
In addition to showcasing the history, culture and natural wonders of the countries and regions visited, the special interest programs on these types of cruises are designed to help passengers pursue the latest trends in hobbies, explore new fields of learning, catch up on world developments ..... even engage some of the world's leading experts in conversation.
Many theme cruises feature onboard lecturers or celebrities – from big names in cinema and literature to renowned academic scholars and sports icons. Theme cruise passengers enjoy workshops, special events, autograph signings and in-cabin video programming, all tied into the theme.
Here are a few of the special topics featured in shipboard programs and theme cruises offered by the some member lines of Cruise Lines International Association (CLIA).
COSTA CRUISES – Among Costa's many theme cruises is the Holistic Holiday at Sea with renowned teachers and authors and more than 50 workshops on vegan and macrobiotic cooking, massage, meditation and health.
CRYSTAL CRUISES – Crystal voyages feature focused programming ranging from wellness through Tai Chi, yoga and Pilates. Themes include the Arts & Antiquities cruise and the perennially popular Crystal Wine & Food Festival.
CUNARD LINE – Cunard Insights™ features renowned authors, lecturers and personalities from the worlds of culture, entertainment, sports and politics.
HOLLAND AMERICA LINE – One of Holland America's most popular special interest programs is the Culinary Arts Center presented by Food & Wine magazine. It features celebrity chefs from around the world.
MSC CRUISES – MSC themes include food and wine, classical music, dance, art, astronomy and astrology, hobbies such as art, photography and bridge, golf and well-being and health.
HURTIGRUTEN (formerly NORWEGIAN COASTAL VOYAGE) – Hurtigruten's 12-day theme cruises include Watercolors and Art with onboard artists and teachers and Winter Digital Photography in the Arctic.
NORWEGIAN CRUISE LINE – NCL hosts Cooking Light's annual Ship Shape Cruise, a health-and-wellness voyage.
OCEANIA CRUISES – In addition to destination experts and special interest lecturers on such topics as political science, history and finance onboard every sailing, Oceania is noted for its culinary cruises with well-known chefs.
PRINCESS CRUISES – Princess offers a comprehensive shipboard enrichment program called [email protected]. It features guest lecturers and experts on such topics as cooking, visual arts, computer skills, photography and pottery.
REGENT SEVEN SEAS CRUISES – Themes include Le Cordon Bleu Circles of Interest cruises featuring distinguished chefs, workshops, demonstrations and special dinners.
SILVERSEA CRUISES – Golf, wine, art and history are some of the themes offered by Silversea Cruises.


photo courtesy Princess Cruises