Types of Cruises - New Year's Eve Cruises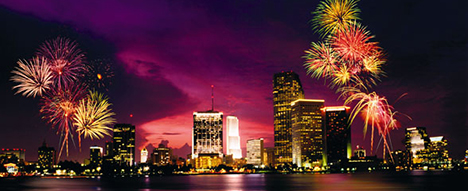 CRUISING ON NEW YEAR'S EVE

Happy New Year! .... and there's no better place to say it or to live the greeting than on a New Year's Eve cruise.
It's the biggest party of the year on the high seas.

Imagine New Year's Eve with all the fun without the scurrying around and hard work, champagne corks popping and bubbly flowing as your fellow cruise guests sing Auld Lang Syne while the clock strikes midnight.
Imagine discovering the great festive markets of Europe, waltzing to Strauss in Vienna or a champagne toast on an impossibly elegant beach somewhere in the Caribbean. Think about the satisfying, memorable pleasure of having the entire family together in a spirit of enjoyment and total relaxation. Cruising during the festive season offers all this and more.

There are as many reasons to take a winter holiday cruise as there are holiday cruises to take. An escape from all the work of preparing for the holidays and the stress of entertaining, a chance to share quality time with family and friends while someone else does the work, an opportunity to combine the holidays with sharing new places and experiences, great shopping expeditions: these are just some of the reasons why a holiday cruise can be memorable. And, from the Caribbean to Antarctica, from the Mexican Riviera to South America, cruise lines this year will offer a dazzling variety of New Year's Eve voyages.

There are week-long roundtrip itineraries on these types of cruises in the Caribbean from Miami, Fort Lauderdale or San Juan and longer sailings around Cape Horn in South America. There are cruises in Hawaii and the South Pacific and leisurely river cruises through the heart of Europe. There are voyages along the mighty Mississippi, the Columbia and the Snake rivers. And, there are holiday cruises that emphasise the fun and good cheer of the holidays wherever they might be sailing.

What all these types of cruises have in common are popping champagne corks and a New Year's Eve banquet without the washing up. In some cases, a New Year's Eve cruise also represents a great bargain, for couples on their own, families with younger children, or extended families seeking a rewarding setting for a communal celebration.

photo courtesy MSC Cruises