Types of Cruises - Honeymoon Cruises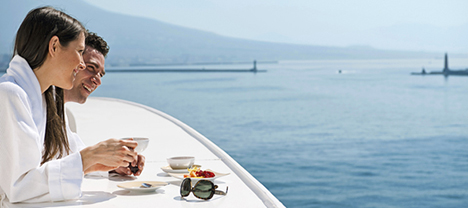 TAKING A CRUISE ON YOUR HONEYMOON

Increasing numbers of honeymoon couples are saying "I do" to cruise vacations – it's a great way to relax after a hectic wedding and the perfect start to a life together "happily ever after".
Some couples choose a "two-for-one" package – a wedding conducted on board while in port on embarkation day, followed by the honeymoon cruise. Cruises are, by nature, virtually all-inclusive, and a romantic vacation anyway, so they offer an incredibly convenient way in which to celebrate a honeymoon.

As the number of honeymoon travelers grow, so cruise lines are perpetually adding features and amenities that appeal to all types of couples looking for romance, and with all budgets in mind.
In addition to moonlit walks along promenade decks, honeymoon couples can opt to dine on their private balconies while gazing at the ocean or reserve tables for two at intimate, celebrity-designed venues. They can enjoy chocolate-covered strawberries and champagne in their staterooms, strolls under moonlit, star-filled skies along promenade decks, indulge in massages for two at the ship's spa or revel in al fresco midnight dips in outdoor Jacuzzi spas.
Many high-end suites on these types of cruises feature butler service that enable couples to enjoy time away from other guests, as well as al fresco balcony dining. Some honeymoon packages include flowers and champagne and even ship souvenirs such as photo frames, hats, t-shirts and relaxing robes. It is worth shopping around.
Honeymoon cruise vacations aren't just for the very young and "just married" anymore. In fact, travel agents report second-marriage couples are their largest source of business. They also report a big increase in same-sex couples choosing cruises as romantic vacation options.
May and June are the best time for honeymoon cruises. The Caribbean/Bahamas is the most popular cruising destination for couples on these types of cruises, followed by Hawaii, the Mediterranean and Alaska (although Hawaii and Alaska cruises may not be available during some parts of the year). Cruise lines have expanded the offerings available to honeymooners with new packages, features and amenities that are clearly exceeding the expectations of today's travelers.

Photo courtesy MSC Cruises