Cruise News - Holland America Line's Nieuw Amsterdam


March 01 - 2011

: NIEUW AMSTERDAM NAMED 2011 SHIP OF THE YEAR BY WORLD OCEAN & CRUISE LINER SOCIETY


Holland America Line's latest addition to the fleet, ms Nieuw Amsterdam, was voted Ship of the Year for 2011 by members of the World Ocean & Cruise Liner Society (WOCLS).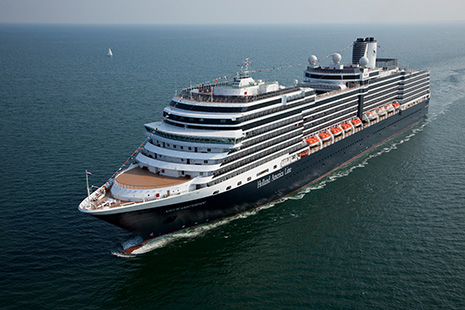 photo: Holland America Line - Nieuw Amsterdam
The award was announced in the February issue of Ocean & Cruise News, the society's 16-page monthly publication.
"In order for a ship to become our 'Ship of the Year,' it takes an exceptional consistency of high marks in each of the grading categories," wrote Thomas Cassidy, editor of Ocean and Cruise News. "Our congratulations go to Holland America Line and the crew of the Nieuw Amsterdam on delivering the highest degree of passenger satisfaction to our members."

"Nieuw Amsterdam quickly has become a guest favorite since it debuted, and knowing that our ship stood out and was recognized by the most experienced and dedicated cruisers is a true honor," said Richard D. Meadows, CTC, executive vice president, marketing, sales and guest programs. "With each new ship we introduce more innovative features, amenities and partnerships that enable us continually to add value to our product and brand, and our guests truly appreciate that."

One hundred fifty-one ships from all major cruise lines were rated in the survey, which is based on passenger satisfaction in categories ranging from culinary and service to itineraries and shipboard activities and entertainment. From 1982, when Ship of the Year surveys began, Holland America Line ships have received top honors ten times — more than any other cruise company's ships.

The World Ocean & Cruise Liner Society was founded in 1980 and is considered to be the oldest and largest cruise organization of its kind. WOCLS is composed of more than 7,500 experienced cruisers who take, on average, two cruises each year.

For more information on Holland America Line's View & Verandah offer, consult a professional travel agent, call 1-877-SAIL HAL (877-724-5425) or visit www.hollandamerica.com

About Holland America Line

Holland America Line's fleet of 15 ships offers more than 500 cruises to 350 ports in more than 100 countries, territories or dependencies. Two- to 110-day itineraries visit all seven continents and highlights include Antarctica, South America, Australia/New Zealand and Asia voyages; a Grand World Voyage; and popular sailings to ports in the Caribbean, Bermuda, Alaska, Mexico, Canada/New England, Europe and Panama Canal.

Fleetwide, the company features Signature of Excellence enhancements, a commitment totaling more than $525 million, that showcase the Culinary Arts Center presented by Food & Wine magazine — a state-of-the-art onboard show kitchen where more than 60 celebrated guest chefs and culinary experts provide cooking demonstrations and classes — Explorations Café powered by The New York Times, Digital Workshop powered by Windows, teens-only activity areas and all new stateroom amenities highlighted by flat-panel TVs and plush Euro-top Mariner's Dream Beds.