Cruise News - May 2012
Cruise news and cruise travel news in May 2012 – the updates are right here at Prow's Edge Cruise Magazine

---

May 30 - 2012

: Oceania Cruises travels to Scandinavia and Russia

The unmistakable architecture and old-world charms of the Baltic states are capped by two full days in St. Petersburg on Oceania Cruises' first-ever voyages to Scandinavia and Russia aboard the acclaimed m/s Marina. Limited space remains on four 10-day cruises, with cruise-only rates from $2,544 per person.

To see more about this news about Oceania Cruises click here at Prow's Edge Cruise Magazine
---

May 28 - 2012

: Regent Seven Seas Cruises feature Wellness Tips from all over the World



From antioxidant-rich Mediterranean cuisine to ancient healing rituals of India, the experts at Canyon Ranch have teamed with Regent Seven Seas Cruises to develop wellness tips culled from ports around the world to help travelers maintain and enhance their health and well-being while cruising.

To see more about this news about Regent Seven Seas Cruises click here at Prow's Edge Cruise Magazine


---

MAY 26 - 2012

: Princess Cruises Art Connoisseur Voyages Showcase Top Contemporary Artists



Princess Cruises is showcasing some of today's top contemporary artists and lecturers in a series of special Art Connoisseur Cruises designed for both avid collectors and art newcomers.

To see more about this news about Princess Cruises art cruises click here at Prow's Edge Cruise Magazine


---

May 17 - 2012 : Fred Olsen Cruise Lines offer 'Voyage of a Lifetime' Cruises in 2014

Fred. Olsen Cruise Lines has announced two new 'World Cruises' for 2014 aboard its cruise ships Balmoral and Black Watch with amazing prices from only £83 per person per night! Both of these exciting 'Voyages of a Lifetime' will visit some brand new ports of call, such as exotic Yangon in Myanmar – formerly Burma – and a first foray into Japan, with visits to the historic island of Hiroshima, then the ports of Osaka and Yokahama. Balmoral's cruise includes five maiden calls, and Black Watch's has four; but the ships also re-visit some of Fred. Olsen's guests' favourite ports around the world, often with an extended stay to allow extra time for shore excursions.







To see more about this news about Fred Olsen Cruise Lines' World Voyages click here at Prow's Edge Cruise Magazine


---

May 16 - 2012 : SeaDream Yacht Club's Amazon Voyages Take a Peak at the Inca city of Machu Picchu


SeaDream Yacht Club's SeaDream I & II, rated as the top "Boutique Ships" in 2012 by Berlitz Guide to Cruising & Cruise Ships, has introduced its 2013 Amazon pre and post- voyage Land Adventures to Machu Picchu.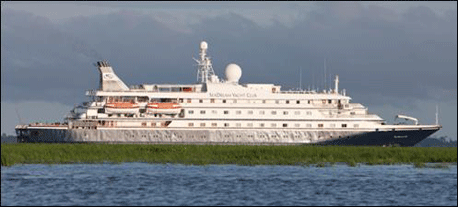 Photo courtesy SeaDream Yacht Club



To see more about this news about SeaDream Yacht Club's Amazon Voyahes click here at Prow's Edge Cruise Magazine


---
May 09 - 2012 : Norwegian Cruise Line Lays Keel For New Norwegian Breakaway at Meyer Werft

Norwegian Cruise Line executives and officials from MEYER WERFT took part in the Keel Laying Ceremony of Norwegian Breakaway at the ship yard in Papenburg, Germany on Friday, May 4. During the official ceremony, the first of 73 blocks that will comprise the 144,000 gross ton vessel was lifted into the covered building dock, marking the start of the block assembly.


Photo: Norwegian Cruise Line


To see more about this news about Norwegian Cruise Line click here at Prow's Edge Cruise Magazine


---

May 08 - 2012 : Crystal Cruises Becomes First Cruise Line to offer 2013 / early 2014 Calender


Crystal Cruises has released its latest Worldwide Cruise Atlas for all of 2013 and winter/spring 2014, becoming the first luxury cruise line to offer a published guide for those years. The ultra-stylish, 170-page book showcases the line's innovative new brand campaign, "Begin a New Story," which shares personal travel stories, images, and mementos in journal-like form. Profiling 84 itineraries in more than 75 countries and 250+ ports, the engaging pages all share story elements of sailing aboard artfully elegant Crystal Symphony and Crystal Serenity.


To see more about this news about Crystal Cruises in 2013 and 2014 click here at Prow's Edge Cruise Magazine


---
May 2 - 2012 : MSC Cruises showcases chocolates on their new chocolate cruises

Take a look at our cruise food section for the latest in cruise food news, including this item about chocolate aboard chocolate lovers' cruises with MSC Cruises. "Guests will learn all about the history of chocolate and the production process from bean to bar while enjoying every chocolate-filled minute. "


To see more about this news about MSC Cruises with chocolate click here at Prow's Edge Cruise Magazine


---