Cruise News - February 2011
Cruise news and cruise travel news in February 2011 – the updates are right here at Prow's Edge Cruise Magazine

In February 2011, the Prow's Edge Cruise Magazine sailed through the press releases from and about the cruise lines and cruise ports to find the latest news about cruises – from news about spending credits on Silversea Cruises to news from Fred Olsen Cruise Line, Windstar Cruises, Azamara Club Cruises and the Volga
This archive is intended to showcase the cruise news of February 2011.





February 14 - 2011

: SILVERSEA 2011 voyages now offer generous Onboard Spending Credits



Ultra-luxury Silversea Cruises has launched a new "Passport to Luxury" promotion with the addition of 30 new voyages offering Onboard Spending Credits of up to $1,000 per suite ($500 per person) -- meaning most voyages (over 90) in 2011 now feature the promotion. These enticing offers are available on new bookings made by June 30, 2011.




The Silver Wind – Photo courtesy Silversea Cruises

"With Onboard Spending Credits of up to $1,000 per suite now offered on most sailings this year, we're giving travelers essentially a 'passport to luxury' that lets them enjoy a completely personalized, all-inclusive vacation experience," said Steve Tucker, Silversea's vice president of field sales for North America.


---



February 11 - 2011

: Fred Olsen Cruises to arrive in Copenhagen in time for UCI Road World Championships 2011


One of the delights of cruising is that you often discover an event, or special activity, happening in a port of call that was quite unexpected, but could be a real treat!




Photo: Fred Olsen Cruises- Balmoral

Fred. Olsen Cruise Lines' Baltic cruise L1116 aboard Balmoral includes a call into Copenhagen, on 24th September 2011, which coincides with one of the world's greatest cycle races – the 'UCI Road World Championships 2011' – being hosted by the city.

---


February 07 - 2011

: Windstar Cruises Offers 64 Shore Excursions on Italy Voyages in 2011


Windstar Cruises, which operates a three-ship fleet of luxury yachts that explore hidden harbors and secluded coves of the world's most treasured destinations, offers 64 shore excursions on 7-day Italian voyages sailing between Venice and Rome; Rome and Rome; and Nice and Rome.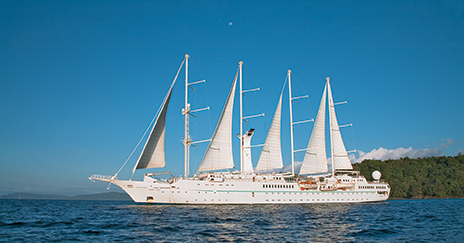 Photo: Windstar Cruises

Designed to explore Italy intimately, the shore excursions encompass land and sea adventures, cultural and historical experiences, food and wine tours, and walking journeys.

---


February 4 - 2011

: AZAMARA PARTNERS WITH PERRYGOLF TO OFFER ALL-INCLUSIVE GOLF AND CRUISE PACKAGE FEATURING TOP COURSES IN THE WORLD


Azamara Club Cruises, the destination-immersive cruise line for up-market travelers, today announced a strategic relationship with PerryGolf, the renowned luxury golf tour operator, to offer Azamara Club Golf Cruises, an escorted and all-inclusive golf tour and cruise program that features some of the world's premier golf courses.

Photo: Golf packages with Azamara Cruises
Designed specifically with the passionate golfer in mind and offering more opportunities for guests to play at more courses on a voyage, Azamara Club Golf Cruises combines a range of compelling itineraries with the superior golf experience that PerryGolf has refined since 1984.


click here for more about this cruise news about Azamara Cruises...
---


February 3 - 2011

: 2010 A RECORD YEAR FOR GRAND TURK CRUISE CENTER WITH NEARLY 250 PORT CALLS AND 625,000 PASSENGERS


FFive years ago the Grand Turk Cruise Center (GTCC) was dubbed the "Caribbean's newest cruise port facility," destined to become a favorite of vacationers from around the world. With its state-of-the-art facilities and convenient access to the island's breathtaking white-sand beaches, the Grand Turk Cruise Center has far exceeded those expectations.



Photo: Grand Turk Cruise Center

The 2010 cruise season was a record for the GTCC with a total of 248 calls from 40 cruise ships representing 14 different cruise brands. The Grand Turk Cruise Center hosted a record 622,720 passengers, representing a 19 percent increase over the previous year and a whopping 113 percent increase over 2006, the center's first year of operation.

---




FEBRUARY 01 - 2011

: On the Volga with Russia's Great Musicians


The Volga River has been a source of inspiration for Russian musicians down the ages, among them Tchaikovsky, Prokofiev, Shostakovich, and Rachmaninoff.



Photo: Volga Dream Musicians

n August Russia's most intimate and luxurious ship MS Volga Dream will pay homage to this bond with two special 6-night musical themed cruises on the Volga River – from Moscow to St. Petersburg on August 11, and from St. Petersburg to Moscow on August 17.