Cruise News - May 2011
Cruise news and cruise travel news in May 2011 – the updates are right here at Prow's Edge Cruise Magazine

In May 2011, Prow's Edge brought a few interesting news items sifted through the press releases from and about the cruise lines and cruise ports to find the latest news about cruises – from news of Azamara Club Cruises first cruises in South America to Cunard Line Insights Program for 2011
This archive paints a picture of cruise news that was current in May 2011.


---

May 30 - 2011

: REGENT SEVEN SEAS CRUISES DEBUTS "GRAND VOYAGES" in 2012



Regent Seven Seas Cruises is pleased to unveil its 2012 "Grand Voyages." In response to past guest requests and heighted demand for extended sailings in Europe and South America, these new, longer itineraries are ideal for intrepid explorers

"A great number of our loyal guests are perennial travelers and seek out voyages which offer a wide range of unique experiences," explains Mark Conroy, president of Regent Seven Seas Cruises. "Our new 2012 'Grand Voyages' offer an abundance of opportunities for exploration and are certain to create life-long memories."



click here for more about this cruise news about Regent Seven Seas Cruises...

---

May 25 - 2011 : Windstar Cruises Ranked #1 by Celebrated Living for Fifth Year
as Top Small/Mid-Size Cruise Line

Windstar Cruises, which operates a three-ship fleet of luxury yachts that explore hidden harbors and secluded coves of the world's most treasured destinations, was selected for the fifth consecutive year as the best small/mid-size cruise line by the discerning readers of Celebrated Living, American Airlines' publication for first class passengers. The 2011 Platinum List is an annual reader's choice guide endorsing the top hotels, golf courses, spas and cruise lines in the world.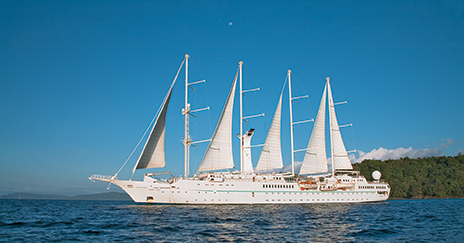 Photo: Windstar Cruises

click here for more about this cruise news about Windstar Cruises...



---

May 23 - 2011

: CRYSTAL SERENITY SUPER-REDESIGN COMPLETE AFTER LINE'S LONGEST-EVER DRY DOCK


One Hamburg shipyard, two weeks, several talented designers, 500+ international staffers, 606 crew, and $25 million. Such are the ingredients for the ultra-luxurious redesign of Crystal Cruises' largest ship, Crystal Serenity. Just completed after a round-the-clock remodel at Germany's Blohm + Voss shipyard, the dry dock was the company's longest ever. All 535 staterooms, retail centers, outdoor pool deck, corridors and other spaces received a dazzling facelift, in addition to general sprucing of the entire outside and inside of the vessel.


click here for more about this cruise news about Crystal Cruises...



---

May 16 - 2011

: Cunard Line Insights Program for 2011


It's not just about lying on a deckchair - cruising these days is also about education and entertainment with an educational slant.

Special presentations offered by Cunard Insights, the award-winning guest enrichment program continues in 2011 where guests are now able to learn more about politics, entertainment, literature, science and history through renowned speakers from these and other world disciplines.

click here for more about this cruise news about Cunard Line...

---

May 03 - 2010

: AZAMARA CLUB CRUISES CELEBRATES FIRST SOUTH AMERICA SEASON


Azamara Journey will sail to vibrant South America for the first time this upcoming October to deliver the regions colors, cultures, and best-kept secrets. In honor of the ship's inaugural season in the region, Azamara Club Cruises is offering up to 50 percent savings and up to a $1,000 ChoiceAir credit for up-market travelers to join in the celebrations on an amazing Azamara voyage. Not to be left out, up-market travelers also can enjoy the same offer on select Southeast Asia voyages aboard Azamara Quest.

click here for more about this cruise news about Azamara Club Cruises...

---