Cruise News - November 2010
Cruise news and cruise travel news in November 2010 – the updates are right here at Prow's Edge Cruise Magazine

In November 2010, the Prow's Edge Cruise Magazine sailed through the press releases from and about the cruise lines and cruise ports to find the latest news about cruises – from news about Silversea Cruises and their line up of mid-voyage adventures to new Europe Cruisetour Options for Princess Cruises in 2011 and nine awards for Holland America Line.
This archive is intended to showcase the cruise news of November 2010.




---

November 22 - 2010

: HURTIGRUTEN'S EXPANDED ROSTER OF UNIQUE & FASCINATING 2011 THEME CRUISES IMMERSES GUESTS IN HOLIDAY CELEBRATIONS, MUSIC, CULTURE, PHOTOGRAPHY, BIRDING AND MORE


With the demand for unusual and educational experiences on the rise, Hurtigruten has created an expanded roster of fascinating theme cruises for 2011 – and with eight unique itineraries ranging from classical opera and photography to astronomy and New Year's celebrations to birding and polar explorers, there is an option for everyone. Early-booking prices on reservations made by Dec. 31, 2010, available on most voyages, offer savings of up to 20% and range from $722 to $4,989 per person, double. Voyages booked after Dec. 31 range from $722 to $5,252; suites are priced higher.



MS Trollfjord - Photo courtesy Hurtigruten
---

November 18 - 2010

: SILVERSEA REVEALS NEW MID-VOYAGE LAND ADVENTURES


Seven new land adventures are among dozens of extended mid-voyage excursions Silversea Cruises is offering in 2011. Unlike a partial-day shore tour, these single- or multiple-day inland adventures offer travelers a more intimate, in-depth and personal encounter with the local people, history, wildlife and natural attractions that lie just beyond the ports of call.



Photo: Silversea Cruises


---

November 16 - 2010

: HOLLAND AMERICA LINE WINS NINE
2010 READERS' CHOICE AWARDS FROM PORTHOLE CRUISE MAGAZINE


Holland America Line, a leader in defining the premium cruise experience, recently was awarded nine 2010 Readers' Choice Awards including Best Eco-Friendly Cruise Line and Best Private Island for Half Moon Cay, its exclusive paradise in the Bahamas, from Porthole Cruise Magazine, one of the world's leading cruise travel publications.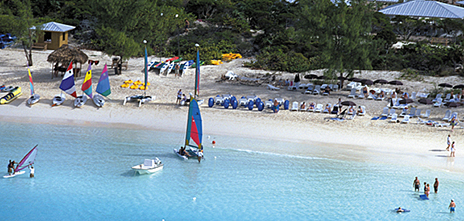 Photo: Holland America Line - Half MoonCay

Porthole Cruise Magazine's Readers Choice Awards are determined by thousands of the publication's readers who vote on their favorite cruise lines in a wide variety of categories including Best Private Island, Best Shore Excursions and Best Itineraries.
---

November 15 - 2010

: FRED. OLSEN LAUNCHES CAPTAINS' COLLECTION OF EX-UK CRUISES


Fred. Olsen Cruise Lines has launched a new brochure of 52 specially selected, ex-UK cruises for 2011, offering exceptional value for money – The Captains' Collection. All the featured cruises offer additional savings on the prices in Fred. Olsen's second edition brochure, and selected cruises offer Double Savings. The special rates detailed in the Captains' Collection are applicable on bookings made up to and including 28th February 2011 (subject to availability.)




Photo: Fred Olsen Cruises- Black Watch

---

November 12 - 2010

: OCEANIA CRUISES TO SHOWCASE THE LAST FRONTIER WITH DISTINCTIVE COLLECTION OF SHORE EXCURSIONS

Alaska's celebrated sights and wild wilderness will provide the backdrop for four brand-new Oceania Cruises' summer 2011 itineraries. The line known for exploring off-the-beaten-path ports of call is engaging guests with an "Alaskan Immersion" collection of interactive shore excursions that truly reveal the character and culture of the people of this great land.

Photo: Oceania Cruises
"We are delighted to bring the 49th state to our guests in an up-close and personal way," states Bob Binder, president of Oceania Cruises. "These sightseeing tours and excursions were designed to provide guests an immersive, insightful Alaskan cultural experience."
---

November 09 - 2010

: ROYAL CARIBBEAN ADDS RADIANCE OF THE SEAS AND SPLENDOUR OF THE SEAS TO REVITALIZATION LINE UP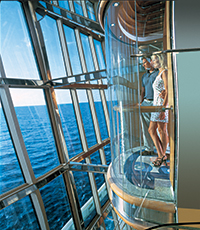 Royal Caribbean International today announced the revitalizations of Radiance of the Seas and Splendour of the Seas in 2011, two more ships in addition to enhancements planned aboard Oasis of the Seas and the already announced drydocks for Liberty of the Seas and Freedom of the Seas.

The scheduled revitalizations and enhancements of the five ships reflect the Royal Advantage, the cruise line's commitment to provide guests with the industry's most innovative cruise ships, exciting destinations and superior Gold Anchor Service to help create an extraordinary cruise vacation.

Photo: Glass clad elevator on the Radiance of the Seas - Royal Caribbean

click here for more about this cruise news about Royal Caribbean...
---

NOVEMBER 08 - 2010

: Princess Cruises Introduces New Europe Cruisetour Options for 2011



Princess Cruises has unveiled two new cruisetour options for passengers on Europe cruises next year, providing them the opportunity to explore the mysteries of ancient Petra in Jordan or to enjoy a cruise up the dramatic Rhine River. The new itineraries join the line's previously announced cruisetours giving passengers a total of five land/sea vacation choices in the 2011 season.