Cruise News - August 2010
Cruise news and cruise travel news in August 2010 – the updates are right here at Prow's Edge Cruise Magazine

In August 2010, the Prow's Edge Cruise Magazine sailed through the press releases from and about the cruise lines and cruise ports to find the latest news about cruises – from news about landmark legislation for cruise passengers brought about by the International Cruise Victims Association to news of new destinations such as those offered by Voyages of Discovery.
This archive is intended to showcase the cruise news of August 2010.


---

August 31 - 2010

: PAUL GAUGUIN CRUISES SCORES HIGHEST GUEST SURVEY RANKING IN 14-YEAR SAILING HISTORY



Recently celebrating the one-year anniversary of being a member of the Pacific Beachcomber portfolio, Paul Gauguin Cruises is pleased to share news of remarkable accolades. The m/s Paul Gauguin recently achieved its highest guest survey in the ship's 14-year sailing history, scoring a 98.9% in excellence by guests of the August 7, 2010 sailing to Tahiti and the Society Islands.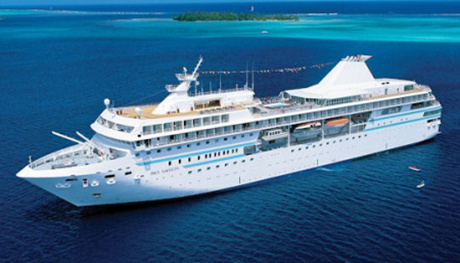 Photo: m/s Paul Gauguin - Paul Gauguin Cruises

---

August 27 - 2010

: CARNIVAL "Fun Ship" enthusiasts can now add their own unique touches to the new vessel, CARNIVAL MAGIC set to debut May 1, 2011



As Carnival Cruise Lines unveils new details about its newest "Fun Ship," Carnival Magic, fans and fun-seekers can now learn more and join in the fun, well before the ship sets sail next year.

Carnival today launched a new, interactive online home for Carnival Magic that showcases the ship's standout features through a full-screen virtual tour and more, as well as many ways for "Fun Ship" enthusiasts to add their own unique touches to the new vessel, set to debut May 1, 2011.




Photo: Carnival Magic - Carnival Cruises


---

August 19 - 2010

: HOLLAND AMERICA LINE OFFERS GRAND EXPERIENCES WITH FALL 2011 AND
2012 GRAND VOYAGES


In fall 2011 and early 2012, Holland America Line again will offer grand voyages that touch all seven continents. The ms Amsterdam and ms Prinsendam each sail two itineraries designed to discover and explore remarkable destinations — from famous landmarks to smaller, lesser-known ports.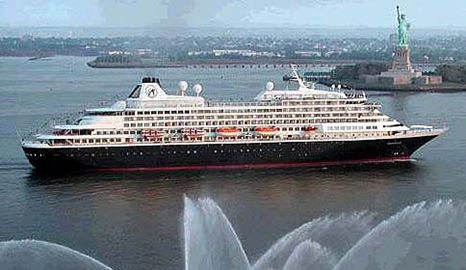 photo: ms Prinsendam - courtesy Holland America Line
---

August 17 - 2010

: FRED. OLSEN CARIBBEAN CRUISES TO SHOWCASE THE DIVAS OF MOTOWN AND THE UPBEAT BEATLES ON THE BLACK WATCH


As part of its popular 'Music and Laughter' variety show programme on selected 2010 cruises, Fred. Olsen Cruise Lines is delighted to announce that The Divas of Motown and The Upbeat Beatles will be starring on board a Black Watch cruise to the Caribbean this autumn.



---

August 10 - 2010

: CRUISE LINES INTERNATIONAL ASSOCIATION (CLIA) REPORTS ON TWO INDUSTRY GROWTH MARKETS: LUXURY AND RIVER CRUISING



Two different segments of cruising turn out to have much in common, and both are on a strong growth curve. Results of just completed surveys of travel agent and cruise line members of Cruise Lines International Association (CLIA) tell why.

click here for more about this cruise news from CLIA ...
---

August 09- 2010

: STAR CLIPPERS OFFERS SPECIAL SAVINGS ON 2010 HOLIDAY SAILINGS


Travelers looking for a tropical escape this holiday season can take advantage of Star Clippers' savings of up to 40 percent off six holiday sailings to the Caribbean and Costa Rica.

The valid dates are Royal Clipper's Dec. 18 and 26, 2010, sailings in the Caribbean; Star Clipper's Dec. 18 and 26 departures in the Caribbean, and Star Flyer's Dec. 19 and 26 sailings in Costa Rica.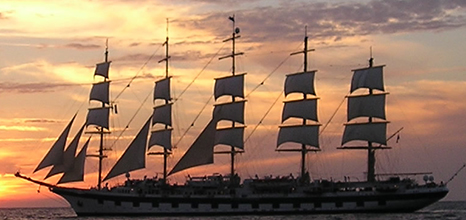 Photo courtesy Star Clippers

click here for more about this cruise news from Star Clippers ...


---
JULY 26 - 2010 : Discovering the hidden gems of the Middle East, Orient & Australia this winter with Voyages of Discovery

In Winter 2011-12, Voyages of Discovery will continue to offer guests the opportunity to explore many of the world's most fascinating, diverse and lesser-travelled destinations.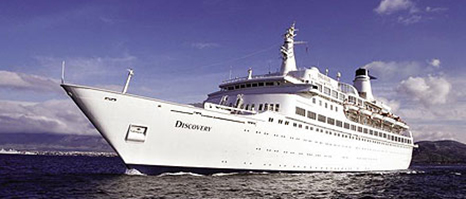 Discovery begins her programme in the Holy Land journeying around Israel and Egypt before moving on to India and the Orient, the Indian Ocean and finally Australia before making the journey home. Discovery will visit some extraordinary places on route, including mystical Myanmar then voyaging onto places such as China and arriving in Australia. She finally returns to the Mediterranean and the Black Sea including a visit to Gallipoli on ANZAC day, before visiting some classic European destinations including Sicily, Corsica and Greece. With prices starting from just £1,549pp for 15 days, including flights, accommodation, food, entertainment and all gratuities, passengers can be assured of exceptional value.


click here for more about this cruise news from Voyages of Discovery...

---

July 20 - 2010

: HURTIGRUTEN OFFERS SOUTHBOUND ROUTE FOR FREE ON COMPLETE 12-DAY NORWAY SAILING

Prices range from $1,533 to $2,140 for October through December Sailings- a 30% Savings!


The Norwegian fjords, a highlight of Hurtigruten's Coastal Voyage, have had awards and honors bestowed on them over the years, most recently by National Geographic Traveler which named it the world's most celebrated and iconic travel destinations. And Hurtigruten is making it easier to take in these Norway treats (and many others) this fall, offering its 12-day roundtrip Norwegian Coastal Voyage for the price of the seven-day northbound portion - five nights free with the purchase of six.



MS Trollfjord - Photo courtesy Hurtigruten

click here for more about this cruise news from Hurtigruten...

---

July 19 - 2010

: CELEBRITY CRUISES PRESENTS EXOTIC NEW VOYAGES
IN AUSTRALIA, NEW ZEALAND, INDONESIA AND FRENCH POLYNESIA – Inspired by guest demand, new itineraries feature 36 ports in six countries

Like the iconic boomerang believed to have originated in Australia, Celebrity Cruises today announced plans to return to the region in 2011-12, with an enticing new series of vacations on Celebrity Century.



Celebrity Century - photo courtesy Celebrity Cruises

Marking the line's first return to the land Down Under in two years, Celebrity's exotic new Australia and New Zealand season – bookended by a series of vacation options in Hawaii – features a total of 36 ports in six countries: Australia, New Zealand, Indonesia, French Polynesia, the U.S. and Mexico.

---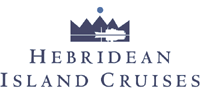 July 15 - 2010 : Hebridean Island Cruises hold prices as Hebridean Princess 2011 programme is launched

Hebridean Island Cruises, for which Lord Sterling is Chairman, has launched the 2011 programme for their 5 star cruise ship Hebridean Princess - this will be the ship's 23rd season of continuous operation in and around the Hebrides.
Whilst demand for their cruises is high, the company has been able to hold cruise fares at the previous year's levels meaning that 2009 prices will be continued into 2011. In addition, for the first time in over 15 years and in response to guest feedback, a number of longer 9 and 10 night cruises have been included.




Hebridean Princess - Photo courtesy Hebridean Island Cruises

---

July 13- 2010

: Cunard Announces the Queen Elizabeth Theatre Company


When Cunard Line's new Queen Elizabeth debuts in October 2010, the Line will introduce an original concept in theatrical entertainment at sea with the newly formed Queen Elizabeth Theatre Company. Guests will enjoy a brand new repertoire of shows premiered by the Theatre Company's 29 singers, dancers, actors and musicians.

New shows will include the hit "Slice of Saturday Night," a popular nostalgic pastiche of 1960s music which has been staged in London and toured extensively throughout the UK and US.

Photos courtesy Cunard Line - Queen Elizabeth


click here for more about this cruise news from Cunard Line...

---

July

09 - 2010

: CRYSTAL CRUISES VOTED WORLD'S BEST AGAIN


For a record 15th consecutive year, Crystal Cruises has been voted "World's Best Large-Ship Cruise Line" by the readers of Travel + Leisure magazine. The ultra-luxury line is the only vacation experience – cruise line, hotel or resort -- to have been voted #1 by for 15 years, each year since the awards' inception. Crystal Cruises' 2010 World's Best Score of 90.47 is one of the line's highest ever scores and its second highest score in eight years.



Crystal Cruises refurbished Prego Room aboard the Crystal Symphony
Photo courtesy Crystal Cruises



click here for more about this cruise news from Crystal Cruises...

---

July 06 - 2010

: HOLLAND AMERICA LINE NAMED ms NIEUW AMSTERDAM IN VENICE


In a gala ceremony rich with Dutch heritage, Holland America Line named ms Nieuw Amsterdam in Venice, Italy, on July 4. Her Royal Highness Princess Máxima of the Netherlands officially named the premium line's 15th ship in front of invited dignitaries, cruise guests and media during the special celebration before the ship embarked on its maiden cruise.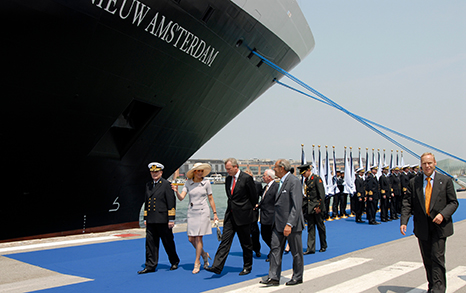 Dedication Ceremony - ms Nieuw Amsterdam - Photo courtesy Holland America Line


click here for more about this cruise news from Holland America Line...

---

July 02, 2010: International Cruise Victims Association (ICV) brings about landmark changes for victims who die at sea


Over the past two weeks, the International Cruise Victims Association has continued their work for the rights of victims who die at sea and as a result, the House has passed H.R. 5503, the Securing Protections for the Injured from Limitations on Liability Act (SPILL Act).

Introduced by Judiciary Committee Chairman John Conyers, Jr. (D-Mich.) and Louisiana Gulf Coast Congressman Charlie Melancon (D-La.), this legislation focuses on fixing loopholes in liability statutes so that the victims who die at sea can be fairly treated.

click here for more about this cruise news from the ICV...