Cruise News - The Queen of the Mississippi - American Cruise Lines

February 09 - 2012

: American Cruise Lines showcases the new paddlewheeler, Queen of the Mississippi


American Cruise Lines, the leader in small ship cruising, has announced its 2013 schedule for the brand-new 150-passenger authentic paddlewheeler, Queen of the Mississippi.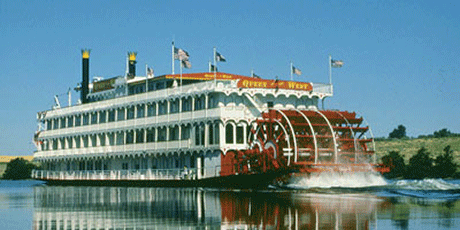 "We're excited about the release of 2013 sailings aboard Queen of the Mississippi," said Timothy Beebe, Vice President, American Cruise Lines. "We received a wonderful response to the 2012 inaugural season and look forward to further accommodating this demand with the 2013 schedule."

Similar to the 2012 season, theme cruises will be featured throughout, including the Civil War and Mark Twain, with new additions such as musical and holiday-themed cruises. Details on these special cruises will be released later in the year.

Entertainment will also be a key component, with various featured local and national entertainers spanning a range of music genres, including Jazz, Dixie Land and Blues. A resident onboard riverlorian (river historian) will also be aboard each cruise, while additional lecturers and experts also join guests along the cruise to educate, entertain and captivate them along the way.
The Queen of the Mississippi boasts 78 staterooms much larger than those on any other Mississippi riverboat, with sliding glass doors to spacious private balconies, and all of the ammenities today's travelers expect, while maintaining the elegance and traditional Victorian luxury of classic late 1800s Mississippi riverboats.
American Cruise Lines operate the authentic paddlewheeler over the entire Mississippi River System, including the Ohio and Cumberland Rivers. Cities featured on these very unique riverboat journeys are as far north as St. Paul, Minnesota on the Mississippi River and as far east as Pittsburgh, Pennsylvania on the Ohio River.
The Queen of the Mississippi can cruise much faster than other Mississippi riverboats, which means there is less travel at night and longer stays in each of the river towns en route.
About American Cruise Lines
American Cruise Lines is the largest US cruise company, operating the newest fleet of small ships in the industry and offering more than 35 unique itineraries along the inland waterways and rivers of the Pacific Northwest, Alaska, the Mississippi River System and East Coast of the United States, from New England to Florida.
To learn more about American Cruise Lines, visit:
www.americancruiselines.com or call (800) 814-6880.