Cruise News - Azamara Club Cruises Celebrates the Titanic

September 20 - 2010

: EXCLUSIVE-CHARTER "VOYAGES! TITANIC 2012" TO OBSERVE CENTENNIAL ANNIVERSARY OF SHIP'S SINKING ABOARD AZAMARA JOURNEY


Willtiger Corporation and Azamara Club Cruises are proud to announce Voyages! Titanic 2012, a once-in-a-lifetime experience aboard Azamara Journey commemorating the historic maiden trans-Atlantic voyage of the RMS Titanic.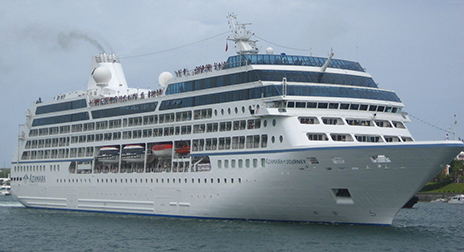 Photo: Azamara Journey
Departing April 9, 2012, from Boston on a nine-night roundtrip itinerary, the voyage will arrive at the location of the final resting place of Titanic on her 100th anniversary and remain for three days, where Azamara Journey will be the exclusive cruise ship to receive live video feeds from a remotely operated underwater vehicle (ROV) deployed from an expeditionary ship alongside. Throughout, guests will have opportunities to immerse themselves in the history and experience of Titanic.
"This exclusive charter, Voyages! Titanic 2012, will be a unique experience to commemorate the most infamous passenger ship in history on its centennial anniversary," said Bill Willard, president of Willtiger Corporation. "We'll be at the exact site at the exact time one-hundred years after the RMS Titanic met its demise to remember those lost and the ship. Throughout, we will offer guests a deeper understanding of what Titanic's passenger experienced through a great schedule of enrichment programs and memorials."
Onboard, guests will be able to participate in three memorial services, a wreath-laying ceremony, as well as presentations by a prestigious line-up of maritime and fashion researchers and historians, executives from international Titanic societies, and survivors' relatives. Dinner menus also will feature dishes from recipes served aboard Titanic and guests can learn the Irish dance with which the ship's third-class passengers would have celebrated.
"It is truly an honor to charter Azamara Journey to Voyages! Titanic 2012 and help memorialize one of the most well-known maritime events in history," said Larry Pimentel, president and CEO of Azamara Club Cruises. "Azamara Club Cruises is dedicated to delivering unique voyages coupled with extraordinary service, and Voyages! Titanic 2012 is an example of the many distinctive itineraries and onboard experiences that we offer."
In addition to three days at the location of Titanic's wreckage, Azamara Journey also will call at Halifax, Nova Scotia, where guests can choose excursion options that visit the Titanic cemeteries, the Maritime Museum and other memorial sites in the city that played a pivotal role in this historical event.
Guests of Azamara Journey also will enjoy the cruise line's extraordinary signature service and more inclusive onboard amenities, such as included gratuities for housekeeping, dining and bar staff; complimentary bottled water, sodas, specialty coffee, and teas, as well as complimentary boutique red and white wines to accompany lunch and dinner; and English Butler service for suite guests.
The 682-guest exclusive charter aboard Azamara Journey offers guests a European-boutique hotel ambience with extraordinary service, fine cuisine and wines from around the world, and wellness and vitality programs. For more information, visit www.voyages-to-remember.com. To make a reservation, call Wilcox World Travel and Tours at 1-800-294-5269.