Cruise News - Costa Concordia Disaster - Statement from Carnival

January 16 - 2012

: Carnival Corporation & plc issues a statement regarding the Costa Concord disaster off the western coast of Italy



"This statement is from Carnival Corporation & plc in Miami, FL. Carnival Corporation & plc is the parent company of Costa Cruises.

On January 13, 2012, Costa Cruises' vessel, the Costa Concordia, departed from Civitavecchia, Italy with approximately 3,200 passengers and 1,000 crew members on a seven-day voyage. At approximately 10:00pm CET, the vessel struck rock off the coast of Isola del Giglio, Italy and sustained significant damage causing the ship to list severely. The order was given to abandon ship and deploy the lifeboats.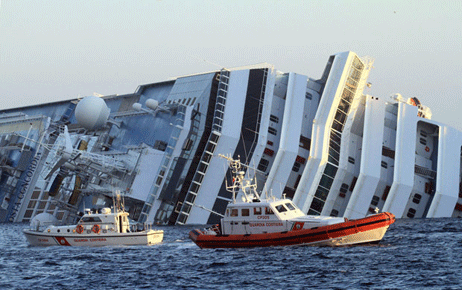 Photo Credit: Enzo Russo, AP Photo
Tragically, there are reports of some deaths and injuries. This is a terrible tragedy and we are deeply saddened. Carnival Corporation & plc offers our sympathies and heartfelt condolences to all of the Costa Concordia guests, crew members and their families. Carnival Corporation & plc and Costa Cruises are committing our full resources to provide assistance and ensure that all guests and crew are looked after.

We want to express our deep gratitude to the Italian Coast Guard and local authorities and community members who have gone to extraordinary lengths to assist in the evacuation of the ship and provide support for our guests and crew.

We are working to fully understand the cause of what occurred. The safety of our guests and crew members remains the number one priority of Carnival Corporation & plc and all of our cruise lines.

Costa Concordia was sailing on a Mediterranean cruise from Civitavecchia (Rome) with scheduled calls at Savona, Italy; Marseille, France; Barcelona, Spain; Palma de Mallorca; Cagliari and Palermo, Italy.

Friends and family members may use the following country-specific contact numbers to reach Costa Cruises:

Italy 848505050
U.S. 800-462-6782
Austria 00438109006565
Germany +4940570121314
France +33155475554
Spain +34934875685
Portugal +34914185951
UK 08453510552

Carnival Corporation & plc is the parent company of ten cruise lines including Carnival Cruise Lines, Holland America Line, Princess Cruises, Seabourn, AIDA Cruises, Costa Cruises, Cunard, Ibero Cruises, P&O Cruises (UK) and P&O Cruises (Australia)."
For more information on other aspects of Costa Cruises visit www.costacruises.com.