Cruise News - Disney Cruise Line

December 20 - 2010

: Disney Cruise Line Offers Cruise Guests Unique Travel Tours in 2011


Award-winning travel companies Adventures by Disney and Disney Cruise Line have once again teamed up to offer immersive vacation opportunities for families aboard select Disney cruise vacations in 2011.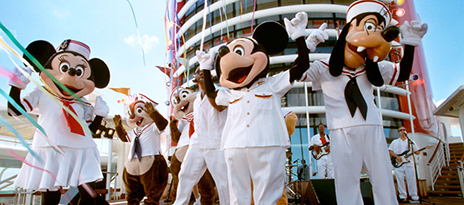 Photo: Disney Cruise Line

The Adventures by Disney experience is available as an upgrade booked in advance of the cruise that features privately-guided tour packages in Mediterranean or Alaskan ports of call or a pre-cruise adventure at the port of embarkation.


Disney's new sea and shore offers broaden guest travel options. Cruises can be combined with guided tours of the world's most fascinating and scenic destinations. They include interaction with Local Experts and provide active, hands-on experiences to create a unique vacation that families will never forget.
Escape to an Adventure on Land
Considered two vacations in one, the Escape packages are mini Adventures by Disney trips available on select Disney Cruise Line departures that begin prior to the cruise, allowing guests to further explore the local culture and history of the specific destination.
The Vancouver Escape is a 4-day/3-night vacation that takes place prior to the Disney Cruise Line itinerary to Alaska. Guests enjoy breakfast "Under the Sea" at Vancouver Aquarium as beluga whales swim nearby followed by a tour of the Marine Science Center. Starting from the Aquarium, guests receive a guided tour of Stanley Park, including a visit to the famed totem poles. Families hop a gondola to the top of Grouse Mountain to visit the resident bears and wolves of the Refuge for Endangered Wildlife and take a ride on the Mountain Zipline – all before boarding the Disney Wonder for a seven-night voyage to Alaska.
On the 4-day/3-night Barcelona Escape, guests will explore the Sagrada Familia Cathedral, Antoni Gaudi's unfinished masterpiece and the landscape architecture of Parque Guell. Junior Adventurers are treated to an exclusive archeological experience and mountain hike and even transition back in time as they visit Pueblo Espanol followed by a flamenco farewell. Guests then board the Disney Magic, where they will enjoy unrivaled onboard entertainment and hassle-free travel as they explore the Mediterranean.
"Sea" More with Onboard Upgrade
Travelers aboard the 7-night Alaskan Wonders cruise and the 7-, 10- and 11-night Mediterranean Magic cruises can opt for a combined Adventures by Disney and Disney Cruise Line vacation that provides an immersive experience on land and at sea, including specially planned shore experiences led by Disney-trained Adventure Guides. Mediterranean Magic offers a privately-guided tour of Florence featuring top sites such as Michelangelo's David, followed by visits to cultural and historical locations throughout Rome, an authentic pizza-making lesson and even a private boat tour of Capri, stopping for a swim. At night, guests return to the splendor and services aboard the Disney Magic.
Between scenic views of North America's western shoreline aboard the 7-night Alaskan Wonders cruise, guests take a helicopter to a glacier, visit the Yukon Suspension Bridge in Canada and receive a private tour of the Jewell Gardens. Whether attending a glassblowing demonstration or dog sledding, details are perfected to ensure the itinerary includes local flair and unforgettable moments. Afterward, guests return to the amenities and comfort of the Disney Wonder.
Adventures by Disney's Signature Service
With every trip, guests discover the best of each location and participate in experiences nearly impossible to book on their own. Families will depart on vacation knowing every detail is taken care of as they travel from one destination to the next, receiving world-class service all the while. Adventures by Disney itineraries feature Adventure Guides, Local Experts and expedited entrance to some of the most popular sites, unique experiences for Junior Adventurers and special surprises for every traveler. Guests return home with a well-rounded tour of the location from land and by sea, and memories they can treasure for a lifetime.
For more information or to book these unique vacations, contact a Disney Cruise Line reservation agent at 888/272-0571 or visit disneycruise.com