Cruise News - Holland America Line - Ocean View and Verandah Sale

December 06 - 2010

: HOLLAND AMERICA LINE BEGINS THE POPUALR ANNUAL VIEW & VERANDAH SALE OFFERING AMAZING SAVINGS


Holland America Line has just launched one of its most popular sales offered each year. The View & Verandah sale runs through Feb. 28, 2011 and features special savings on ocean-view and verandah staterooms.

Cruisers can save up to 50 percent on select cruises and also take advantage of reduced deposits plus free or reduced rates for third and fourth guests.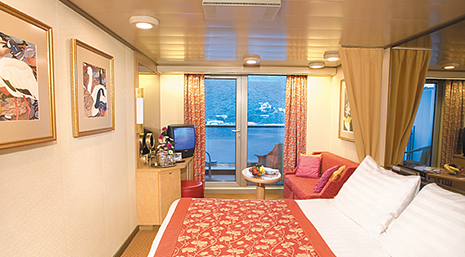 photo: Holland America Line verandah - courtesy Holland America Line
"Our View & Verandah sale falls at a great time of year, when people are planning and booking their vacation for the coming year," said Richard Meadows, CTC, executive vice president, marketing, sales and guest programs. "By taking advantage of these exceptional savings, guests can enjoy an ocean-view stateroom or verandah suite that they might not be able to book otherwise."

Cruise destinations featured in the View & Verandah sale include Alaska cruises and cruisetours, Europe, Caribbean, Bermuda, Mexico, Canada/New England, Panama Canal, Asia, Australia/New Zealand, Hawaii/Tahiti and South America.

For more information on Holland America Line's View & Verandah offer, consult a professional travel agent, call 1-877-SAIL HAL (877-724-5425) or visit www.hollandamerica.com

About Holland America Line

Holland America Line's fleet of 15 ships offers more than 500 cruises to 350 ports in more than 100 countries, territories or dependencies. Two- to 110-day itineraries visit all seven continents and highlights include Antarctica, South America, Australia/New Zealand and Asia voyages; a Grand World Voyage; and popular sailings to ports in the Caribbean, Bermuda, Alaska, Mexico, Canada/New England, Europe and Panama Canal.

Fleetwide, the company features Signature of Excellence enhancements, a commitment totaling more than $525 million, that showcase the Culinary Arts Center presented by Food & Wine magazine — a state-of-the-art onboard show kitchen where more than 60 celebrated guest chefs and culinary experts provide cooking demonstrations and classes — Explorations Café powered by The New York Times, Digital Workshop powered by Windows, teens-only activity areas and all new stateroom amenities highlighted by flat-panel TVs and plush Euro-top Mariner's Dream Beds.