Cruise News - Hapag-Lloyd Cruises

September 07 - 2010

: MS HANSEATIC Successfully Sails Through the Legendary Northwest Passage


The HANSEATIC, a Hapag-Lloyd Cruises expedition ship has just covered more than 4,000 nautical miles. The expedition ship successfully sailed through the legendary Northwest Passage. This 26-day cruise started on August 16th in Kangerlussuaq/Greenland, crossed Disko Bay, which is famous for its icebergs, and sailed through the Northwest Passage headed now for the conclusion of the trip in Nome, Alaska. Besides numerous animal encounters and excursions on the maneuverable Zodiacs, the highlight of the voyage for guests was a meeting with the sister ship, the MS BREMEN.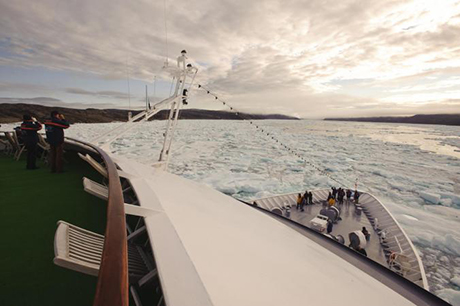 MS Hanseatic on its' way through the Legendary Northwest Passage
On August 23, 2010, the HANSEATIC began the transit through the Northwest Passage near Resolute Bay, concluding the passage on September 6, 2010 with her arrival in Barrow/Alaska. Only a limited number of passenger ships accept the challenge of sailing through the entire Northwest Passage from east to west. The two Hapag-Lloyd Cruises expedition ships the MS BREMEN and the MS HANSEATIC are among the few ships worldwide capable of tackling these routes, thanks to their special constructional design and the highest ice class for passenger ships (E4). Naturally, the weather and ice conditions in this region also have an impact on the itinerary – after all, this is one of the distinguishing features of an expedition cruise.
Northwest Passage itineraries 2011:
- For the first time ever, Hapag-Lloyd Cruises will offer guests the option to discover the fascination of the Arctic and the Northwest Passage on a shorter 19-day cruise with the MS HANSEATIC. Sailing through a smaller portion of the Northwest Passage, guests will follow the traces of Amundsen and Franklin and explore the ice coast of Greenland as well as the untouched island world in the north of Canada.
Trip logistics: from Kangerlussuaq/ Greenland to Reykjavik/ Iceland, August 14 - September 2, 2011.
- The full and very popular Northwest Passage will also be offered in August 2011 on the MS BREMEN. The famous passage starts in Nome, Alaska amidst impressive testimonies of the Inuit culture before the BREMEN sails through the Canadian Arctic, the heart of the Northwest Passage, on a 25-day journey.

For more information on Hapag-Lloyd Cruises' exciting 2011- 2012 expedition itineraries visit www.hl-cruises.com