Cruise News - Paul Gauguin Cruises

August 31 - 2010

: PAUL GAUGUIN CRUISES SCORES HIGHEST GUEST SURVEY RANKING IN 14-YEAR SAILING HISTORY



Recently celebrating the one-year anniversary of being a member of the Pacific Beachcomber portfolio, Paul Gauguin Cruises is pleased to share news of remarkable accolades. The m/s Paul Gauguin recently achieved its highest guest survey in the ship's 14-year sailing history, scoring a 98.9% in excellence by guests of the August 7, 2010 sailing to Tahiti and the Society Islands.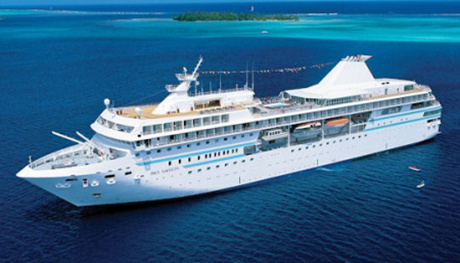 Photo: m/s Paul Gauguin - Paul Gauguin Cruises


The survey marked notable improvements to the entire guest experience aboard The Gauguin, from booking a voyage, experiences onboard and the return trip home. Food quality, service and staff attentiveness all ranked highly on the 67-question survey. Guest surveys are completed at the end of each sailing, with The Gauguin receiving increasingly higher rankings as the year progressed.

"I am tremendously proud of the entire Paul Gauguin Cruises team. We have worked diligently to provide the most authentic and memorable experiences for our guests, and it is with great pride that I thank our agents, operations teams and crew of The Gauguin for their outstanding hard work and their continued commitment to our guests," comments Richard Bailey, President of Pacific Beachcomber, S.C.

Additionally, fostering relationships with the travel agent community remains paramount to Paul Gauguin Cruises. Effective today, Paul Gauguin Cruises announces the extension of phone hours to accommodate the increase in phone activity and broader agent and customer base. The new hours are from Monday through Friday 6:00am to 5:30pm (PST) and Saturday 7:00am to 3:00pm (PST). Paul Gauguin Cruises also recently implemented a higher land commission of 10% for agents booking pre- and post-cruise travel.

For rates and reservations for Paul Gauguin Cruises, contact a Professional Travel Agent, call 800-848-6172 or visit www.pgcruises.com.

About Paul Gauguin Cruises
Owned by Pacific Beachcomber S.C., the leader in French Polynesia luxury destination resorts, Paul Gauguin Cruises operates the award-winning luxury cruise ship m/s Paul Gauguin, providing a luxury cruise experience tailored to the unparalleled wonders of Tahiti, French Polynesia and the South Pacific. The m/s Paul Gauguin was built at the Chantiers de l'Atlantique shipyard in Saint Nazaire, France. The ship is 513 feet long and 71 feet wide and has a draft of 16.9 feet. The ship can accommodate 332 guests with a staff of 217 and is one of the top Exclusive Charter and Incentive Group venues in the industry. The m/s Paul Gauguin has undergone more than $25 million in enhancements since its inaugural sail in 1998. Since 1998, the m/s Paul Gauguin has completed more than 500 South Pacific cruises and served more than 140,000 guests, including more than 12,000 honeymooners.

With more than 25 years of experience in the French Polynesian tourism market, the Pacific Beachcomber group is the country's largest luxury hotel and cruise operator, managing The Gauguin in addition to six award-winning hotels: InterContinental Tahiti Resort, InterContinental Bora Bora Le Moana Resort, InterContinental Bora Bora Resort & Thalasso Spa, InterContinental Moorea Resort and Spa, the Maitai Bora Bora and the Maitai Rangiroa.