Cruise News - Port of Los Angeles

March 2 - 2011

: PORT OF LOS ANGELES 'PLUGS IN' THREE DIFFERENT CRUISE LINES TO SHORE-SIDE ELECTRICAL POWER



The Port of Los Angeles this month became the first port worldwide to provide Alternative Maritime Power™ (AMP™) to three separate cruise lines. In recent weeks, ships from Disney Cruise Line, Princess Cruises and Norwegian Cruise Line have all taken advantage of unique "AMP Mobile" technology developed specifically for the World Cruise Center.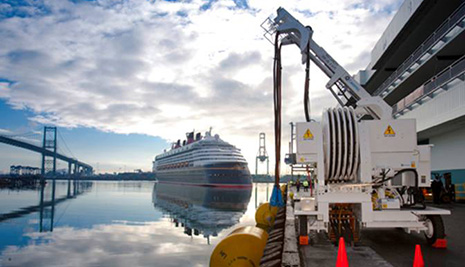 Photo: Port of Los Angeles

"The use of AMP™ at our World Cruise Center reduces emissions not just at the Port but improves the quality of air throughout the Los Angeles region," said Mayor Antonio Villaraigosa.


"As the State of California recognizes the environmental impacts of operations at California's major seaports, this program in particular deserves credit for its ability to sharply reduce ship emissions," added 55th District Assemblymember Warren T. Furutani (D- South Los Angeles County), who encourages state funding measures to help ports install and deploy costly shore-side electric power infrastructure. "I'm committed to advocating in the Legislature to streamline regulations and funding so that we can clean our air and keep our ports competitive."

"I'm particularly pleased that Port engineers were the first worldwide who came up with a way to handle the challenges of adapting to the unique needs of multiple cruise lines with different power requirements at one cruise terminal," said Executive Director Geraldine Knatz, Ph.D. "This is another important tool we are using to grow in a diverse and environmentally responsible manner."

The Port of Los Angeles has three AMP Mobiles, which were designed for the World Cruise Center by Port engineers and Cavotec, a global engineering firm. With 100 feet of lateral movement capability and a remote-controlled arm to adjust the cable crane arm to changing tides and the location of power connections on cruise ships, the AMP Mobile versatility allows for a variety of cruise ship configurations.

The World Cruise Center is also the only port where two cruise ships can be connected simultaneously. Cruise ships utilize either 6.6 kilovolts (kV) or 11 kV electrical power distribution systems to plug into shore side power; the Port of Los Angeles can now accommodate either. Currently the power demand of the cruise ships calling the Port of Los Angeles is anywhere between 8 to 13 megawatts of power. A seven megawatt load is equivalent to producing enough electricity for approximately 1,000 homes.

The Port's AMP™ system installed at the World Cruise Center is capable of delivering up to 40 megawatts of power, with 20 megawatts of power delivery capacity to each of the two different ships.

In 2004, the Port of Los Angeles was the first in the world to use AMP™ technology for in-service container ships. Three major container terminals currently have AMP™ capabilities and more are coming on line later this year.

The Port of Los Angeles is America's premier port and has a strong commitment to developing innovative strategic and sustainable operations that benefit the economy as well as the quality of life for the region and the nation it serves. As the leading seaport in North America in terms of shipping container volume and cargo value, the Port generates 919,000 regional jobs and $39.1 billion in annual wages and tax revenues. A proprietary department of the City of Los Angeles, the Port is self-supporting and does not receive taxpayer dollars.

For more information about the Port of Los Angeles, take a look at the Prow's Edge Cruise Magazine profile of the port, packed with useful information at:
http://www.prowsedge.com/cruise-ports-terminal-los-angeles-california.html