Cruise News - Royal Caribbean and the Royal Advantage

November 09 - 2010

: ROYAL CARIBBEAN ADDS RADIANCE OF THE SEAS AND SPLENDOUR OF THE SEAS TO REVITALIZATION LINE UP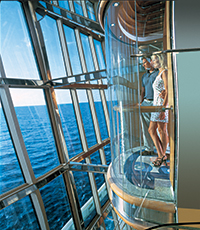 Royal Caribbean International today announced the revitalizations of Radiance of the Seas and Splendour of the Seas in 2011, two more ships in addition to enhancements planned aboard Oasis of the Seas and the already announced drydocks for Liberty of the Seas and Freedom of the Seas.

The scheduled revitalizations and enhancements of the five ships reflect the Royal Advantage, the cruise line's commitment to provide guests with the industry's most innovative cruise ships, exciting destinations and superior Gold Anchor Service to help create an extraordinary cruise vacation.

Photo: Glass clad elevator on the Radiance of the Seas - Royal Caribbean


In mid-2011, Radiance of the Seas will begin its revitalization with the addition of new specialty restaurants, including the Samba Grill Brazilian Steakhouse, Mexican-themed Rita's Cantina, and the Italian Giovanni's Table, as well as the Park Café deli-style restaurant and the exclusive Chef's Table dining experience. Other enhancements to the ship will include a new Diamond Lounge for Crown & Anchor Society loyalty program members, as well as the Royal Babies and Tots Nursery, interactive flat-panel televisions in all staterooms, and Wi-Fi throughout the ship. Splendour of the Seas will receive two new specialty restaurants, and the Park Café, the Royal Babies and Tots Nursery, a Diamond and Concierge Lounge, flat-panel televisions, and Wi-Fi throughout the ship. Additionally, there will be new balcony staterooms added, select stateroom enhancements and upgrades to public areas, including a refreshed Windjammer Marketplace.
Oasis of the Seas also will launch new onboard guest programs starting in the first quarter of 2011. Guests will enjoy the DreamWorks Experience, 3-D movies in the main Opal Theater, and a Starbucks coffee shop to eventually replace Mondo Café on the Royal Promenade. The first-ever Starbucks at sea will launch aboard Allure of the Seas when the sister ship enters service on December 1, 2010.
In early 2011, Freedom of the Seas and Liberty of the Seas will introduce new dining, entertainment, children's programming and other enhancements made popular on the Oasis-class ships, including the Royal Babies and Tots Nursery, The Cupcake Cupboard, the groundbreaking Wayfinding navigation system for guests, and an oversized outdoor video screen in each ship's main pool area. In addition, the DreamWorks experience, 3-D movies and complimentary guest service kiosks, which will be introduced on Allure of the Seas, also will be implemented onboard Freedom of the Seas and Liberty of the Seas, as well as sister-ship Oasis of the Seas. Saturday Night Fever: The Musical, Royal Caribbean's third licensed main-stage musical production, will debut on Liberty of the Seas in the main Platinum Theater.

Royal Caribbean International is a global cruise brand with 20 ships currently in service and two under construction. The line also offers unique cruisetour vacations in Alaska, Canada, Dubai, Europe, and Australia and New Zealand. For additional information or to make reservations, call your travel agent, visit www.royalcaribbean.com or call (800) ROYAL-CARIBBEAN.