Cruise News - SeaDream 2012 Cruises


January 27 - 2011

: SeaDream Yacht Club Announces 2012 Deployment



SeaDream Yacht Club announced its complete 2012 itinerary, which is now available for bookings. The twin deluxe, mega yachts SeaDream I & II will spend early 2012 sailing the Caribbean with an emphasis on visiting the smaller yachting playgrounds and harbors that large ships cannot reach.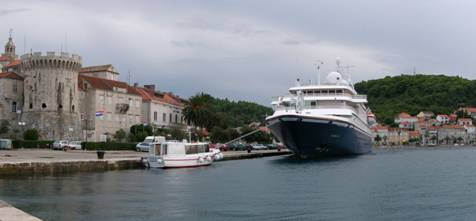 Photo courtesy SeaDream Yacht Club

In addition, SeaDream II will be adding two, 20-day voyages to the Amazon in February 2012. SeaDream's President, Bob Lepisto said, "The British Virgin Islands, such as Norman Island, Jost van Dyke and Virgin Gorda are true yachting destinations and continue to be a SeaDream favorite. However, we are excited to be adding the Amazon to our 2012 itinerary."


SeaDream's debut in the Baltic in 2011 had swift bookings reflecting an appetite for the region. That led to SeaDream II sailing the Baltic in 2012 with the addition of new ports including:
•
Dover, England
: Being used as a turn-round port. Located on the English Channel, Dover is easily accessible from London.
•
Skagen, Denmark
: A popular summer resort and artist colony located at the northern-most point of Denmark.
•
Harlingen, Netherlands
: A charming Dutch town founded in 1234.
•
Brugge, Belgium
: One of Belgium's most historic cities where SeaDream's small size allows her to navigate up the canal into the city.
•
Sylt Island, Germany
: Germany's fashionable summer retreat on the North Sea.
The Mediterranean is traditionally a popular region for summer yachting and SeaDream Yacht Club's 2012 itinerary features more of the magnificent Mediterranean. You'll also find several new, unique options such as an 11-day Black Sea voyage sailing round-trip from Istanbul on September 11, 2012. Ports include Nessebar, Bulgaria; Sulina, Romania; Odessa, Ukraine; Yalta, Ukraine; Sochi, Russia; Novorossiysk, Russia and Sevastopol, Ukraine. Other new ports in their 2012 line up include the archaeological site of Butrint, Albania. Sibenik, Opatija and Mljet, Croatia. Turkey's Turquoise Coast from Bodrum to Fethiye.
The expression "yachting" is not a sentiment about size; it is a statement about lifestyle aboard the small vessels. Chic and stylish, SeaDream's 56-stateroom twin yachts are favored for their elegant informality, state-of-the-art facilities, personal service provided by a crew of 95, inclusive open bar and gratuities, ocean view accommodations, luxury spa and world class cuisine. 2011 marks the tenth year anniversary of SeaDream Yacht Club. It was 2001, when innovative SeaDream Yacht Club brought a refreshing change to the world of ultra-luxury holidays at sea – with the intention of being completely different from any and every other cruise product. Since then, the twin, elegant mega-yacht cruisers SeaDream I & II, have received more than 25 Awards, Honors and Accolades from authoritative travel publications and various industry organizations. Itineraries include the Eastern Caribbean, The Mediterranean, Northern Europe and the Amazon.

More information is available on SeaDream's website at www.seadream.com