Cruise News - SeaDream Yacht Club - The Best

September 27 - 2010

: SEADREAM I AND II ARE "SIMPLY THE BEST" ACCORDING TO THE 2011 BERLITZ CRUISE GUIDE



In advance of publishing the 2011 Berlitz Guide to Cruising & Cruise Ships on October 4, the new guide has announced that the 112-guest mega yachts SeaDream I and II are two of the top five sea-going passenger vessels in the world.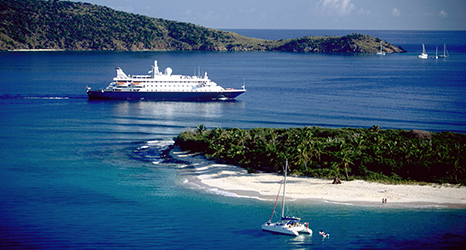 Photo courtesy SeaDream Yacht Club

The new Berlitz Guide, researched and written by Douglas Ward - the world's top authority on cruising and cruise ships - enforces that when it comes to life on the ocean waves "small is beautiful". Having reviewed 285 cruise ships, Ward has named the top-rated ships for 2011. The 10 most highly rated, being officially "small" or "boutique".


The ships and ratings out of a possible 2000 points are:

Europa (1,853 points)
SeaDream II (1,788 points)
Seabourn Odyssey (1,787)
Seabourn Sojourn (1,787)
SeaDream I (1,786)
Seabourn Legend (1,774)
Silver Spirit (1,772)
Seabourn Spirit (1,770)
Seabourn Pride (1,769)
Silver Whisper (1,753)
Silver Shadow (1,750)

The hard hitting reviews independently expose the best and worst scoring cruise ships using an internationally accepted rating system devised by the author, Douglas Ward, the most formidable critic in the business. Taken into account are 400 separate items based on personal cruises, visits and revisits to ships, as well as observations and comments from Ward's team.

Commenting on the announcement by Berlitz on their 2011 ship ratings, Bob Lepisto, SeaDream's President, said: "We are honored and delighted to have been so highly distinguished once again in this world-renowned guide produced by the passenger shipping expert, Douglas Ward. We thank him and his publishers, however, as President I want to add my thanks to our colleagues at sea and those in our offices around the world who have all contributed to our continued success".


In the 2010 Berlitz Guide, in the category "The Top 10 Boutique Ships" (50-200 passengers), SeaDream I and II were rated No 1 and 2, the "Best in the World", with scores of 1,788 for SeaDream II and 1,786 for SeaDream I.

Since SeaDream's founding in 2001, it has been honored annually by the Berlitz Guide, SeaDream I and II having been described as "Ultimately Exclusive Boutique Vessels" and named as the tops in the guide's Five Star Club, listing them as the "Crème de La Crème".

The SeaDream Difference:

In the nine years since the company came into business, innovative SeaDream Yacht Club has brought a refreshing change to the world of ultra-luxury holidays at sea – with the intention of being completely different from any and every other cruise product.

The expression 'Yacht Club' is not a sentiment about size; it is a statement about lifestyle aboard the small, ultra-deluxe vessels. Chic and stylish, SeaDream I and II are the ultimate hybrid of deluxe private yacht and luxury boutique spa. The elegant informality of the yachts sits comfortably with state-of-the art facilities, discreet, personal service and world class cuisine. - SeaDream is the only member of the Thai Spa Association at sea.

Yachting is about enjoying an unstructured lifestyle - dropping anchor offshore rather than tie up at dock, staying in port until well after midnight and taking a voyage to locations where large traditional cruise ships cannot sail.

More information is available on SeaDream's website at www.seadream.com