Cruise News - Star Clippers

August 09- 2010

: STAR CLIPPERS OFFERS SPECIAL SAVINGS ON 2010 HOLIDAY SAILINGS


Travelers looking for a tropical escape this holiday season can take advantage of Star Clippers' savings of up to 40 percent off six holiday sailings to the Caribbean and Costa Rica.

The valid dates are Royal Clipper's Dec. 18 and 26, 2010, sailings in the Caribbean; Star Clipper's Dec. 18 and 26 departures in the Caribbean, and Star Flyer's Dec. 19 and 26 sailings in Costa Rica.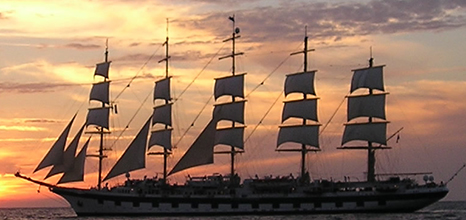 Photo courtesy Star Clippers

Royal Clipper brings sandy beaches and sunshine to the holidays with a special eight-night round-trip Barbados cruise departing Dec. 18. The ship calls at the Grenadines, Grenada, St. Vincent and Bequia, Martinique, Dominica and St. Lucia. The flagship's Dec. 26 holiday departure is a seven-night, round-trip Barbados itinerary that calls at St. Lucia, Dominica, Antigua, St. Kitts, Iles de Saintes and Martinique.
Star Clipper also sails the Caribbean this holiday season with round-trip St. Maarten departures. The special eight-night holiday sailing Dec. 18 calls at Anguilla, Virgin Gorda, Norman Island, Tortola, Jost van Dyke, St. Kitts, Antigua and St. Barts. The seven-night holiday departure Dec. 26 calls at Nevis or Saba, Dominica, Iles des Saintes, Guadeloupe, Antigua and St. Barts.
Star Flyer will spend its first holiday season in Costa Rica in 2010 with seven-night, round-trip Puerto Caldera departures. The Dec. 19 sailing includes a call at San Juan del Sur, Nicaragua, as well as Playa del Coco, National Park Santa Rosa, Samara/Puerto Carillo, and National Reserve of Curu/Isla Tortugas, Costa Rica. Star Flyer's Dec. 26 sailing calls at Isla de Coiba, Panama; and Golfito, Isla del Cano/Drake Bay, Quepos and National Reserve of Curu/Isla Tortugas, Costa Rica.
Holidays are a special time on board Star Clippers' ships, and each vessel serves special holiday dinners. Guests can wait for a visit from Santa, who tends to makes an appearance -- coming on board via the ship's zodiac. The line also endeavors to be in port on New Year's Eve so guests can enjoy a fireworks celebration.
To request a brochure, call toll-free (800) 442-0556 or e-mail brochures. To make a reservation, contact a travel professional. For information, call Star Clippers at (800) 442-0551 or visit www.starclippers.com to view a video about the line or take a virtual tour of the Star Clippers tall ships.