Cruise News - Voyages of Discovery

January 31 - 2011

: VARIETY CRUISES LAUNCHES THE NEW M/Y VARIETY VOYAGER FOR MEDITERRANEAN SAILINGS


Variety Cruises announces the debut of its newest ship, the M/Y Variety Voyager, with an expected launch date of May 2012. The ship will explore the Mediterranean on Variety Cruises' new Treasures of South Italy and Malta seven-night program.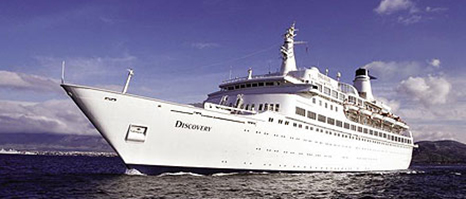 Variety Voyager motor yacht will maintain the intimacy of mega yacht cruising that is the cornerstone of the Variety Cruises concept. The 68-meter vessel will host up to 64 guests in 32 fully equipped staterooms, assuring guest's utmost safety and comfort.


The M/Y Variety Voyager will make its maiden voyage on the new Treasures of South Italy and Malta cruise. Exploring the southern coast and islands of Italy and Malta, the cruise will sail May – October 2012 for seven nights. Ports of call begin with Salerno in southern Italy and the island of Capri. In Sicily, the program will visit Lipari, Stromboli, Giardini Naxas, Taormina, Syracuse, Porto Empedocle and Cefalu, with an additional stop in Malta. Her winter voyages will take her to the Indian Ocean where she operate two cruise programs : a/ In November and again in March, The Gulf and the Treasures of Oman from Muscat /Oman to Abu Dhabi / United Arab Emirates. b / From December 2012 to March 2013, she will cruise along the Western Coast India , from Mumbai or Trivandrum offering a unique insight of India and a world first on small ship
With 28 crewmembers, Variety Voyager guarantees outstanding guest service. Highlights include:
· Indoor restaurant seating 64 guests with expansive floor to ceiling glass windows to showcase ocean views
· Outdoor restaurant area seating 50 people
· Lounge area at main deck seating 64 passengers and adjoining reception area and bar.
· A trendy and spacious outdoor Deck Bar Lounge will feature late-night entertainment from resident DJs and other entertainment
· Wellness Zone on the Marina Deck, offering a Balinese Spa with massages, sauna, steam rooms and an exercise area with various fitness equipment
· The aft section of the ship includes a Marina zone allowing for easy launch of Zodiacs, access to the sea and to watersports equipment
· Internet corner and library
· Audiovisual equipment perfect for groups and other entertainment
For more information on Variety Cruises' Variety Voyager and its Treasures of South Italy and Malta program, please visit www.varietycruises.com, or call 1-800-319-7776 (US) and 1-866-944-8498 (Canada).
About Variety Cruises
Variety Cruises offers luxury, premium and casual experiences in old-world or cosmopolitan locales. Founded in 2005, it is one of the largest small ship cruise company worldwide with a fleet of more than 13 fully owned vessels, including cruise ships and luxury yachts. The family-owned company offers scheduled tours through Greece, Turkey, the Adriatic Sea, the Red Sea, West Africa and the Mediterranean, and a charter yacht program that further traverses the globe. Itineraries are a unique opportunity to savor the cultural, architectural, historical and natural diversity of each port. With a private, convivial and relaxed ship environment, fine cuisine and personalized service, the company is positioning itself to become the choice for travelers seeking a superb small ship cruise experience. Variety Cruises is affiliated with key travel organizations, including: United States Tour Operators Association (USTOA), Ensemble, Vacation.com, TravelSavers, Niche Cruise Marketing Alliance (NCMA), Outside Sales Support Network (OSSN), National Association of Commissioned Travel Agents (NACTA), Network of Entrepreneurs Selling Travel (NEST), International Gay & Lesbian Travel Association (IGLTA) and Carlson Wagonlit Travel (CWT) Vacations. Join Variety Cruises on Facebook.
Further information is available from
www.voyagesofdiscovery.co.uk/winter2011
or by calling 0845 018 1808.