Cruise News - Voyages of Discovery

JULY 26 - 2010

: Discovering the hidden gems of the Middle East, Orient & Australia this winter with Voyages of Discovery


In Winter 2011-12, Voyages of Discovery will continue to offer guests the opportunity to explore many of the world's most fascinating, diverse and lesser-travelled destinations.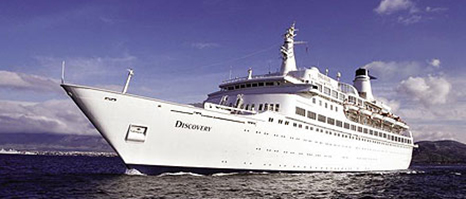 Discovery begins her programme in the Holy Land journeying around Israel and Egypt before moving on to India and the Orient, the Indian Ocean and finally Australia before making the journey home. Discovery will visit some extraordinary places on route, including mystical Myanmar then voyaging onto places such as China and arriving in Australia. She finally returns to the Mediterranean and the Black Sea including a visit to Gallipoli on ANZAC day, before visiting some classic European destinations including Sicily, Corsica and Greece. With prices starting from just £1,549pp for 15 days, including flights, accommodation, food, entertainment and all gratuities, passengers can be assured of exceptional value.


These voyages will appeal to anyone seeking adventure in unfamiliar and extraordinary areas of the world. Empires of the Sun takes passengers to the furthest corners of the Far East, including Japan, a rarity on cruise itineraries, leaving no stone unturned. The magic of Discovery is her small size, allowing her to journey into smaller ports and docks enabling passengers to witness the older, more historic parts of these countries. Here, Voyages of Discovery will uncover mist-shrouded hills in Hiroshima and tranquil temples in Keeling whilst exploring Xiamen, one of the historic five treaty ports exporting fine teas around the globe.
Discovery will be journeying to Australia in an expedition to offer an inclusive picture of the East Coast in the February cruise Australia & The Indonesian Islands. See the turquoise blue waters and soft white sands of the Whitsunday Islands whilst the history behind the 'gold frontier' is revealed in Darwin by on-board guest speaker, Professor Derek Fraser. This cruise is ideal for an avid explorer who wants more than a 'holiday' and this tour will take passengers to the dragon's natural home of Komodo in Indonesia and Bali – a nature enthusiast's paradise.
The Grand Asia & Australia cruise represents one of the best opportunities to explore a world of varied cultures and landscapes in two fascinating continents. The scope of the cruise is simply breathtaking. Lasting 41 days and beginning on 3rd January, 2012, this cruise is the perfect way to see in the New Year. Highlights include visiting Asia's powerhouse China, steeped in tradition and custom and the bustling region of Hong Kong. Journey on to Australia and explore dense rainforests, rare fauna and aboriginal art. Voyages of Discovery are also on hand to make this the trip of a lifetime by helping with travel arrangements to visit friends, family and loved ones in Australia. Travelers on this trip of a lifetime can also make the most of their journey with options to stay on and visit friends, family and loved ones in Australia.
Dudley Smith, Product Director at Voyages of Discovery comments: "I am so pleased to announce that Voyages of Discovery will be revisiting popular destinations as well as unique spots on the map. We listen to customer feedback and as our passengers have an appetite to explore, we have created a Winter itinerary to reflect this. We will be visiting some far flung corners of the world and I can guarantee that Winter 2011-2012 is set to be full of unforgettable experiences."
Further information is available from
www.voyagesofdiscovery.co.uk/winter2011
or by calling 0845 018 1808.