Cruise News - Windstar Cruises - Italy - Shore Excursions

February 07 - 2011

: Windstar Cruises Offers 64 Shore Excursions on Italy Voyages in 2011


Windstar Cruises, which operates a three-ship fleet of luxury yachts that explore hidden harbors and secluded coves of the world's most treasured destinations, offers 64 shore excursions on 7-day Italian voyages sailing between Venice and Rome; Rome and Rome; and Nice and Rome.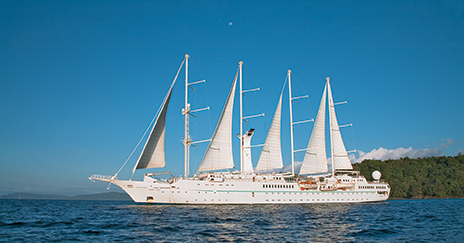 Photo: Windstar Cruises

Designed to explore Italy intimately, the shore excursions encompass land and sea adventures, cultural and historical experiences, food and wine tours, and walking journeys.


Highlighted 2011 Italy Shore Excursions include:
• Amalfi, Italy: Ancient Pompeii – Explore the UNESCO World Heritage site of Pompeii which was buried by a catastrophic eruption of Mount Vesuvius before it was re-discovered in the 1500s. Guided tour through Pompeii's baths, theaters, temples, markets and forum which showcases Roman life from ancient times.
• Capri, Italy: Blue Grotto
– Step aboard a small rowboat to enter The Blue Grotto, a sea cave, that is famous for its brilliant blue light created by sunlight reflecting through the water.
• Livorno, Italy: Wine Tasting and Carriage Ride at Lari
– Wine tasting at Torre a Cenaia winery, a Tuscan wine cellar, before enjoying a romantic horse carriage ride.
• Livorno, Italy: The Leaning Tower of Pisa
– Journey to Pisa which is located 20 miles from Livorno, and view the Leaning Tower, the Piazza de Miracoli, the Baptistry and the historical churchyard.
• Sorrento, Italy: Boat Tour to Positano
– Private motorboat ride along the coast to Positano, once a sleepy fishing village and to home renowned artists, features Moorish-style houses set in luxurious gardens.
• Portoferraio, Italy: Countryside Drive and Wine Tasting
– Visit the enchanting village of Porto Azzurro and enjoy wine tasting at a vineyard frequented by Emperor Napoleon.
• Rome, Italy: Private Vatican Tour
– Explore Porta di Bronzo on Viale Vaticano, special sections of the Vatican Museums, Cappella Niccolina (private worship place of the Pope), artwork masterpieces, the Sala degli Ori displaying precious Etruscan jewels and St. Peter's treasure.
• Rome, Italy: Rome Highlights
– Panoramic drive passing the Pyramid, the Circus Maximus, Imperial Avenue, Arch of Constantine, the Colosseum, Roman Forum, Venice Square, Triton Fountain, Via Veneto, Borghese Gardens, Aurelian Walls, Sant'Angelo Fortress, the ancient Hadrian Mausoleum and a visit to St. Peter's Square (Vatican City).
• Venice, Italy: Venice Essential Sights
– With a local guide, explore St. Mark's Square, St. Mark's Cathedral, Doge's Palace, Golden Staircase, St. Mark's Basin and the Bridge of Sighs.
• Venice, Italy: Venice by Gondola
– Admire the beautiful sights of Venice from a gondola, gliding along the canals accompanied by traditional Venetian music.
About Windstar Cruises
Windstar Cruises operates three sailing yachts known for their pampering without pretense and their ability to visit the hidden harbors and secluded coves of the world's most treasured destinations. Carrying just 148 to 312 guests, the luxurious ships of Windstar cruise to nearly 50 nations, calling at 100 ports throughout Europe, the Caribbean and the Americas. For more information including rates and itineraries contact a professional travel agent or call Windstar at 1-800-258-7245. Visit Windstar Cruises online at
www.windstarcruises.com
.