Cruise News - Windstar Cruises - Readers Vote Windstar as #1

May 25 - 2011

: Windstar Cruises Ranked #1 by Celebrated Living for Fifth Year
as Top Small/Mid-Size Cruise Line


Windstar Cruises, which operates a three-ship fleet of luxury yachts that explore hidden harbors and secluded coves of the world's most treasured destinations, was selected for the fifth consecutive year as the best small/mid-size cruise line by the discerning readers of Celebrated Living, American Airlines' publication for first class passengers. The 2011 Platinum List is an annual reader's choice guide endorsing the top hotels, golf courses, spas and cruise lines in the world.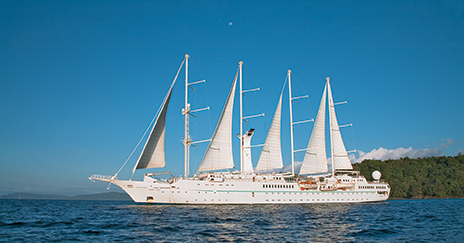 Photo: Windstar Cruises


Winners are featured in the Summer 2011 issue of Celebrated Living. A full list of winners in every category can be found on the magazine's website www.celebratedliving.com.

Windstar recently released its 2012 Collection of Luxury Sailings which visit enchanting destinations and provide unforgettable experiences at exceptional values. In addition to receiving the lowest introductory pricing in years, guests who book by June 30, 2011, receive a $200 shipboard credit per cabin. Windstar's Foremast Members receive an additional 5% discount on all itineraries.

Besides being recognized by Celebrated Living, Windstar has been honored by some of the most notable names in the travel world. Windstar was selected in 2011 as one of "The World's Best Cruise Lines" by Condé Nast Traveler on their 16th Annual Gold List along with all three ships selected for the magazine's "Best Small Ships" list. Windstar was also chosen in 2010 as one the "Top 10 Cruise Lines" by Gayot.com. Windstar earned top honors in Travel + Leisure's "World's 2010 Best Awards" and received the "Most Romantic Cruise Line" honor from Porthole Magazine for the sixth time in a row.

About Windstar Cruises
Windstar Cruises operates three sailing yachts known for their pampering without pretense and their ability to visit the hidden harbors and secluded coves of the world's most treasured destinations. Carrying just 148 to 312 guests, the luxurious ships of Windstar cruise to nearly 50 nations, calling at 100 ports throughout Europe, the Caribbean and the Americas. For more information including rates and itineraries contact a professional travel agent or call Windstar at 1-800-258-7245. Visit Windstar Cruises online at www.windstarcruises.com.