Cruise News - November 2012
Cruise news and cruise travel news in November 2012 – the updates are right here at Prow's Edge Cruise Magazine



November 22 - 2012

: Princess Cruises Features Adults-Only Relaxation Areas



When Princess Cruises' new Royal Princess debuts next June, passengers will find that two of the line's signature features have been enhanced to provide passengers with the ultimate in relaxation. Both The Sanctuary and the line's popular adults-only pool also will offer private cabanas for the first time.


To see more about this news about Princess Cruises click here at Prow's Edge Cruise Magazine



---



November 19 - 2012

: Windstar's Wind Surf to Debut New Restaurant Called Stella Bistro


Windstar Cruises announced today that Wind Surf, the company's flagship sailing yacht, will feature a new dining experience once the yacht's dry dock is completed on December 1st. Formerly known as Degrees, the venue will be transformed into a contemporary dining room with a French twist, and will be renamed Stella Bistro. The name, derived from the Latin word for star, was selected as a tribute to the restaurant's special dining experience, unique to the fleet as Stella Bistro will only be on Wind Surf.


To see more about this news about Windstar Cruises click here at Prow's Edge Cruise Magazine



---


November 10, 2012



Traveling to Canada with a DUI
by Marisa Feil (FW Canada)
This interesting and useful article is submitted by Marisa Feil of FWCanada - a Canadian Immigration Law Firm which specializes in services such as Temporary Residence Program, Criminal Rehabilitation, Study/Work Permits and Federal Skilled Worker.
We are often asked the question, is it possible to enter Canada with a DUI? Canada could potentially classify a person as criminally inadmissible as a result of having a DUI conviction on their record. What does this mean and how does it impact any future travel plans to Canada?
To see more about this news about traveling to Canada witha DUI click here at Prow's Edge Cruise Magazine


---

November 7th - 2012 : New Jazz Itineraries for Crystal Cruises

World-famous bebop/hard bop saxophonist, composer, and arranger Benny Golson will thrill music lovers as the headliner aboard Crystal Cruises' April 29 jazz-themed voyage from Vancouver to Los Angeles. Throughout the seven-day sailing, nearly a dozen internationally-renowned jazz artists will perform with, and pay tribute to, the Jazz Hall-of-Famer, who counts Dizzy Gillespie and John Coltrane among his contemporaries and former band mates.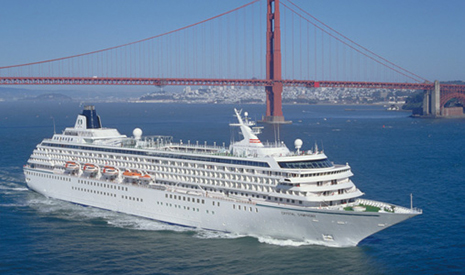 Photo: Crystal Cruises in San Francisco, California, Pacific Coast Cruises


To see more about this news about Crystal Cruises Jazzz Cruises click here at Prow's Edge Cruise Magazine


---

November 01 - 2012
:
Silversea unveils new cruises for 2014
Ultra-luxury Silversea Cruises has unveiled an extensive line-up of worldwide voyages for 2014. Over 200 diverse sailings, visiting more than 500 destinations on seven continents, are now open for reservations.

Noteworthy for 2014 are Silver Whisper's 113-day World Cruise, three voyages that feature extended stays in Myanmar, and Silver Explorer's first-ever expedition cruises through the legendary Northwest Passage, the Russian Far East, Japan, South Pacific and French Polynesia.




Photo:Silver Wind -Silversea Cruises

To see more about this news about Silversea Cruises in 2014 click here at Prow's Edge Cruise Magazine



---
---