BALTIMORE - MARYLAND - USA
PORT INFORMATION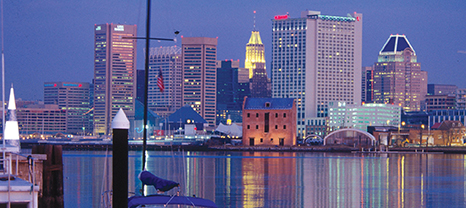 photo courtesy Visit Baltimore

A major US seaport, Baltimore City is located along the tidal portion of the Patapsco River, an arm of Chesapeake Bay in Maryland.
Cruise lines expanding their appeal to families have come to appreciate not only Baltimore's strategic mid-Atlantic location but also the rich mix of history, arts, culture, and maritime heritage that the area offers.
It is a dynamic waterfront city with a vibrant central hub and a laid-back lifestyle.
Brief History of Baltimore
Once the second leading port of entry for immigrants to the United States, the Port of Baltimore is more than 300 years old and was designated as an official Port of Entry in as early as 1706.
Today the port has grown to 45 miles of shoreline and more than 3,400 waterfront acres, and Maryland is a growing cruise market with lots of potential.
"Our easily accessible cruise terminal has become a well-known commodity among cruise lines, " says Governor O'Malley. "Maryland's wonderful attractions, restaurants and hospitality are also no secret. Once again, Maryland has proven its colors."
Cruise Terminals in Baltimore
A converted 65,000-square-foot warehouse, the Baltimore Cruise Terminal is located close to the centre of town and the Inner Harbor and other must-see attractions.
Just off the I-95, the Baltimore Cruise Terminal is less than an hour's drive from Washington DC and Annapolis, and just ten minutes away from BWI Airport (Baltimore-Washington International) where more than 15 airlines (including American Airlines, United and Delta) offer more than 620 flights each day.
For those arriving by train, Amtrak's east coast Acela stops at Baltimore's Penn Station, about 5 miles from the cruise terminal.
Long-term parking is within walking distance of the cruise terminal building and courtesy/handicap shuttles are available. Parking fees are payable upon arrival by cash or traveler's checks only.


Cruise Lines using Norfolk Cruise Terminal as an Embarkation / Disembarking Port
Cruise lines using the Port of Baltimore to start and end their cruises include Carnival Cruise Lines, Celebrity Cruises and Royal Caribbean International. In fact, Royal Caribbean International is now starting a year round cruise service onboard the larger Enchantment of the Seas from Baltimore in June 2010
Must See Attractions in Norfolk
Baltimore Inner Harbor: Baltimore's crown jewel, the scenic Inner Harbor is home to dozens of retail stores, restaurants and attractions, all within walking distance of more than 20 major hotels and the Baltimore Cruise Terminal. The fun and festive atmosphere of the Inner Harbor is enhanced by street entertainers, open-air concerts, fireworks, parades, paddle boats, cruise boats and an outdoor ice skating rink.
Baltimore National Aquarium: Not far from the cruise terminal,
the Baltimore National Aquarium features hundreds of exhibits showcasing more than 16,500 animals and over 660 species, and special exhibits including a Dolphin show and the Aquarium's new 4-D Immersion Theater.
Fort McHenry: A short distance from the port, the historic, star shaped Fort McHenry played a pivotal role in the defence of Baltimore Harbor from the British in 1812. That moment in history was the inspiration for the "The Star-Spangled Banner" America's national anthem. Listed on the National Register of Historic Places, Fort McHenry has become one of Baltimore's most popular, must-see attractions.
Oriole Park at Camden Yards: For baseball fans across the country, Oriole Park at Camden Yards (the once railroad centre) is the official home of the Baltimore Orioles. This popular tourist attraction is also just 2 blocks away from the birthplace of baseball legend, "Babe" Ruth.
Other main attractions include Reginald F. Lewis Museum of Maryland African American History & Culture, where visitors learn about the courageous stories of African American Marylanders, and Geppi's Entertainment Museum showcasing pop culture history. Visitors also head for the Baltimore Visitor Center for Heritage Walk, a guided tour connecting 20 historic sites and museums. Other not-to-be-missed attractions include the American Visionary Art Museum, the Maryland Science Center, the National Aquarium in Baltimore and Port Discovery, the Children's Museum and The Baltimore Zoo.