BOSTON - MASSACHUSETTS - USA
PORT INFORMATION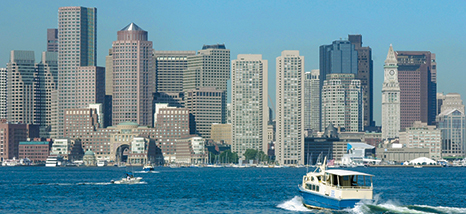 photo courtesy Greater Boston CVB

As well as being the largest city in New England, Boston is also one of the most historic places in the USA offering a wealth of museums and historical sites, and has, for many years gained a solid reputation for culture in the shape of live entertainment and for a growing excellence in cuisine.
More than 16 million visitors a year have turned Boston into one of the ten most popular tourist destinations in the country.
Brief History of Boston
Founded by English Puritans escaping religious persecution in 1630, Boston has a complicated history, intertwined with that of the USA.
With its deep harbor and prime geographical location, Boston has enticed seafarers and commerce ever since its early days in 1600s and within a few years of its humble beginnings there was a thriving ship building industry and a successful whaling and fishing industry too.
As a centre of resistance to the British in 1773, Boston's most famous slice of history is what has now come to be known as the Boston Tea Party when, in 1773, men dressed as Indians boarded ships from the British East India Company loaded with tea, and threw the tea chests into the sea!
The welcome for ships has become a lot warmer since then.
Today Boston has come of age as a world-class destination rich in history, culture, excitement and charm and she welcomes more than 100 cruises each year travelling to major cruise destinations throughout the Eastern Seaboard as well as Bermuda and Europe.
Cruise Terminal in Boston
The Black Falcon Cruise Terminal processes nearly a quarter of a million cruise passengers each year, and is conveniently located in the South Boston Waterfront District is just minutes from downtown Boston.
All attractions are easily accessible by bus. The Silver Line 2 which is part of the Boston subway system picks up from the cruise terminal and takes less than ten minutes. The Beantown Trolley operates on Port of Call Days every 15 minutes.
Logan International Airport is about 7 miles from the Black Falcon Terminal and can be reached by bus, subway, taxi and even ferry. The airport services most major US and international airlines.
The terminal has excellent parking facilities in the 5-level indoor parking garage, and advance reservations for long-term parking are not required.


Cruise Lines using Boston Cruise Terminal as an Embarkation / Disembarking Port
Cruise lines using the Black Falcon Terminal to start and end their cruises include Holland America Line, NCL, and Royal Caribbean International. In fact, Norwegian Cruise Line has announced that they will begin using a newer and larger ship in 2011 for its popular Boston-Bermuda cruise itinerary.
There are many more that call in on Boston as part of their itineraries - including Celebrity Cruises, Crystal Cruises, Cunard Line, Fred Olsen Cruise Line, Hapag Lloyd Cruises, P&O Cruises, and Princess Cruises.
Must See Attractions in Boston
All of Boston's must-see neighborhoods, including historic Back Bay, the South End culinary mecca, fashionable Newbury Street and Copley Square shopping areas are within walking distance from each other and not even two miles from the cruise terminal.
Freedom Trail: There is no better way to explore Boston's rich history than to follow the red brick line along the Freedom Trail where costumed historic characters lead visitors to 16 nationally significant historic sites.
Along the Freedom Trail several of the historic taverns from the time of George Washington and the American Revolution are open to the public in downtown Boston. Next to Faneuil Hall and the popular Faneuil Hall Marketplace is Union Street, the location of the Blackstone Block. Here are America's oldest restaurant and taverns: The Union Oyster House, the Bell In Hand Tavern and The Green Dragon Tavern.
Museum of Fine Arts: Boston's largest art museum is known for housing the biggest collection of Monet paintings outside of Paris, and has earned a reputation for its collections of artefacts from ancient Rome, Greece and Egypt, not to mention one of the most impressive collections of American Art in he USA.
Among Boston's other main attractions is the the newest CHEERS in Boston at Faneuil Hall Marketplace – the replica of the bar seen on the TV series, Cheers. Also must-see attractions if there is time are a cruise with Boston Harbor Cruises, the Science Museum, the USS Constitution Museum, and the New England Aquarium.