NEW YORK - MANHATTAN - USA
PORT INFORMATION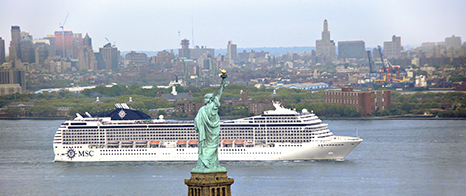 photo courtesy MSC Cruises

New York – a city of architectural treasures and gorgeous parks, continents worth of food, fashion and music throughout five boroughs, heart stopping arts and entertainment, history and heritage that embody the spirit of the United States.
Travelers across the globe rate New York their favorite US city for good reason. There is more to see, more to do, and more to experience than anywhere else in the world.
Cruise Terminals in New York - Manhattan
New York City's world-class cruise ship ports in both Manhattan and Brooklyn are home to some of the most prestigious cruise lines in the world, with itineraries to Bermuda, Canada, New England, Europe and the Caribbean.
The Manhattan Cruise Terminal, originally called the Passenger Ship Terminal when it started servicing cruise ships in the 1930s, is now the USA's fourth busiest cruise terminal.
Ideally situated close to the heart of Manhattan on the Hudson River between West 46th and West 54th Street, The Manhattan Cruise Terminal is only a few blocks away from most of the main attractions in the heart of town.
The Manhattan Cruise Terminal is about an hour away "in traffic" from Newark Liberty International Airport, about an hour from La Guardia Airport in Queens, and about one and a half hours from John F Kennedy International Airport.

Parking at the Manhattan Cruise Terminal is located above each of the piers accessible by the viaduct ramp at 55th Street. Reservations for long-term parking are not necessary.


Cruise Lines using New York - Manhattan Cruise Terminal as an Embarkation / Disembarking Port:
Cruise lines using New York city's Manhattan Cruise Terminal to start and end their cruises include Azamara Club Cruises, Celebrity Cruises, Costa Cruises, Crystal Cruises, Cunard Line, Holland America Line, Hurtigruten, MSC Cruises, NCL, Princess Cruises, Regent Seven Seas Cruises, Royal Caribbean, Silversea Cruises
Must See Attractions in Manhattan - New York
Empire State Building: The Empire State Building Observatory with its spectacular views of the city is the number one must-see attraction in New York – and one that is conveniently close to the Manhattan Cruise Terminal . You can walk there in about 30 minutes by heading east on 52nd Street and turning left on Broadway. A taxi will take about 7 minutes.
Statue of Liberty: While most cruise ships leaving and arriving in New York will sail within view of the Statue of Liberty, this is still one of the most important tourist attractions in the area and is worth a visit. Originally a gift from the French, the Statue of Liberty has come to symbolize freedom in the Western world. It would take no more than 20 minutes by taxi.
Central Park: Another icon of the Big Apple, Central Park is another must-see attraction, even if you only have time for a drive by on the way to another attraction.
Metropolitan Museum of Art: Only ten minutes from the terminal by car, this world famous museum, located on the edge of Central Park between E 81st and E82 Streets, showcases more than 2 million works of art from around the world and from all periods of history.
The Museum of Modern Art (MoMA): Established in 1929, the MoMA is dedicated entirely to contemporary art and features a respectable collection of modern art from modern paintings and sculptures to film and architecture.
More attractions also worth a visit include: Cloisters Museum, featuring the art and horticulture of medieval Europe, the Frick Collection of western fine and decorative arts, The Guggenheim Museum, Madame Tussaud's, and the New York City Fire Museum.