SAN FRANCISCO - CALIFORNIA - USA
PORT INFORMATION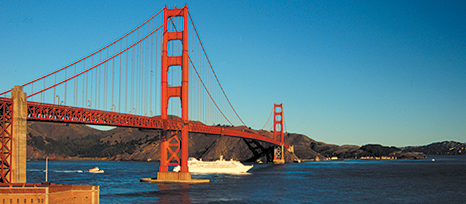 photo courtesy San Francisco CVB

San Francisco is often called "Everybody's Favorite City", a title earned by its scenic beauty, cultural attractions, diverse communities, and world-class cuisine.
With more than 25 cruise ships making an average of nearly 100 calls every year, the Port of San Francisco is both a world-class cruise port and a world-renown destination.
Cruise Terminals in San Francisco, California
Hosting more than 70 cruise ships and more than 200,000 cruise passengers each year, the San Francisco Cruise Terminal is located at Pier 35 along San Francisco's waterfront known as the Embarcadero and is conveniently located near top tourist attractions like Fisherman's Wharf and PIER 39, and within minutes from downtown area hotels, attractions, museums, theatres and restaurants.
With construction set to begin in 2012, a new terminal is planned for Pier 27, where Lombard Street meets The Embarcadero. Works are expected to be complete by the end of 2014. The project will include a northeast wharf public plaza, as outlined by the San Francisco Bay Conservation and Development Commission's special area plan for the San Francisco waterfront.
The current cruise terminal is about 30 minutes from San Francisco International Airport, depending on traffic.
Amtrak now provides daily Thruway service to Cruise Line Port Areas in San Francisco, Long Beach, San Pedro and San Diego. The San Diego station is just three blocks from the downtown San Diego Cruise Ship Terminal
New shore power technology at the Port of San Francisco cruise ship terminal enables Princess Cruises' ships, and other equipped vessels, to use power from the city's grid instead of the engines to power the ship's onboard services--reducing emissions when docked in San Francisco.

See the blog at:
http://prows-edge-cruise-magazine.blogspot.com/2010/10/princess-cruises-ships-begin-plugging.html


Cruise Lines using San Francisco Cruise Terminal as an Embarkation / Disembarking Port
Carnival Cruises, Celebrity Cruises, Crystal Cruises, Fred.Olsen Cruises, Norwegian Cruise Line (NCL), P&O Cruises, Princess Cruises, ResidenSea, Royal Caribbean Cruise LIne and Silversea Cruises use the Port of San Francisco as their port of embarkation and disembarking.


Must See Attractions in San Francisco, California
Fisherman's Wharf: Fishing boats, shrimp and crab stalls and seafood restaurants, novelty museums like Ripley's Believe It or Not! and other family attractions, street vendors and souvenir shops, street artists and art galleries ..... they're all at Fisherman's Wharf, San Francisco's number one visitor destination. There's a "Watchable Wildlife" viewing area at Pier 39 to watch the antics of hundreds of languorous sea lions which have made the dock space their home. Pier 39 is a festival marketplace featuring 110 specialty shops and 12 full-service restaurants.

Cable Car Ride: Millions of visitors use the iconic centuries-old San Francisco cable cars for a scenic ride from the busy intersection of Powell and Market in San Francisco hub to Fisherman's Wharf. It is the only transportation system listed on the National Register of Historic Places.

Alcatraz: Now a National Park, The Rock was once an infamous federal prison, home to the likes of Al "Scarface" Capone and Robert "The Birdman" Stroud. Since 1858 it has been a lighthouse and fort, a US military prison, an army disciplinary barracks, a federal penitentiary and an American Indian stronghold. Now it's a major San Francisco tourist draw. On The Rock are also gardens with rare flowers and plants, tide pools, bird colonies, and in comparable views of San Francisco Bay.

Other major San Francisco attractions are of course the Golden Gate Bridge, Golden Gate Park, Chinatown (the largest Asian enclave outside of Asia), San Francisco Maritime National Historical Park, the Cannery Shopping Center, Ghirardelli Square, the Musée Mécanique, the Wax Museum at Fisherman's Wharf, Steinhart Aquarium, and Morrison Planetarium.