CAPE LIBERTY CRUISE PORT - NEW JERSEY - USA
PORT INFORMATION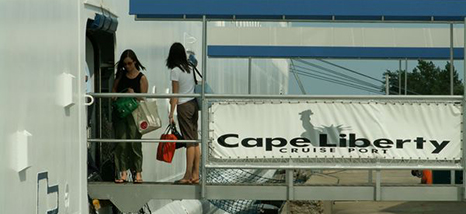 photo courtesy Cape Liberty Cruise Port

A diverse city with large communities of Italian, Irish and Polish Americans, Bayonne is a stone's throw from New York City and is connected to Staten Island, New York by the Bayonne Bridge.
Located just 7 miles from Manhattan, New York at the north-eastern edge of New Jersey, Cape Liberty Cruise Port is the ideal cruise port for anyone flying into Newark Airport.
But Bayonne has attractions of its own, but in general passengers with time to spare tend to head into New York for the attractions there.
Brief History of Cape Liberty
Opened in 2004, Cape Liberty Cruise Port in Bayonne, New Jersey is part of a multibillion dollar redevelopment of The Peninsula at Bayonne Harbor, formerly the Bayonne Navy Base.
Since then, Cape Liberty has processed more than 320,000 passengers and is now the second largest cruise port among Northeast and Mid-Atlantic coast ports.
Cruise Terminal in Cape Liberty
Cape Liberty Cruise Port is about 10 miles from Newark International Airport, 21 miles from LaGuardia International Airport and 34 miles from John F. Kennedy Airport.
Cape Liberty Cruise Port is also easily accessible via the New Jersey Turnpike (Exit 14A) and mass transportation (NJ Hudson-Bergen Light Rail).
The terminal has ample, safe secured parking facilities, and advance reservations for long-term parking are not required.
For those wanting to explore a little of New York while in Bayonne, a train service connects Manhattan with Cape Liberty, but a cab is required for the last part of the journey to and from the terminal.


Cruise Lines using Cape Liberty Cruise Terminal as an Embarkation / Disembarking Port
Cruise lines using Cape Liberty Cruise Port to start and end their cruises include Azamara Club Cruises, Celebrity Cruises and Royal Caribbean International offering cruises to the Caribbean, Bermuda and Canada.
Must See Attractions in Cape Liberty
Unlike most cruise ports used to start and end a cruise, Bayonne does not have many tourist attractions and most sightseeing if there is time would be concentrating on the main attractions of New York.
In fact one the main attractions in Bayonne is the amazing, unobstructed panorama from the port of the Manhattan skyline and the Statue of Liberty.
Of the attractions that do exist in Bayonne, the Musée Basque, Bayonne's museum highlighting the culture of the Basques is well worth a visit. It is, in general considered to be one of the best museums of its kind in the world.
Bayonne Bridge: Linking New Jersey with Staten Island, the Bayonne Bridge is one of the longest steel arch bridges in the world.
9/11: Also known as 'The Crying Slab" this 100-foot bronze slab with what looks like a giant tear in its torn facade was originally intended for Jersey City's waterfront. It is now located at Bayonne on Port Terminal Blvd.
Other attractions include the Bayonne Fire Dept Museum and the Bayonne Museum.