COPENHAGEN - DENMARK - EUROPE
PORT INFORMATION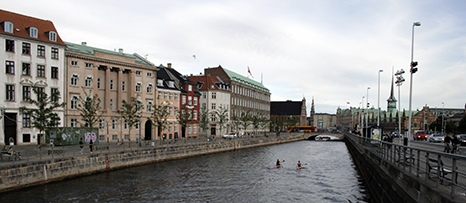 One of the most quintessential European cities, Copenhagen is in fact the largest city in Scandinavia, complete with a wealth of architectural delights from gabled houses to mediaeval spires, and pavement cafés lining the many pedestrian-only streets in the centre of town.
Copenhagen of course has a proud heritage as a major Baltic port and her popularity as a cruise port has grown enormously in the last few years, with more than 500 cruises and half a million passengers visiting the city in 2008.
Cruise Terminals in Copenhagen, Denmark
Most of the cruise lines using Copenhagen as a port of embarkation or disembarking use the new Freeport Cruise Terminal which is in an industrial harbor area north of the center of Copenhagen.
The others use Langelinie (often referred to as the Copenhagen Cruise Terminal), a pier just around the corner from the world famous Little Mermaid statue which is actually not in the center of town as one would expect, but about two miles from downtown Copenhagen. Langelinie is not a terminal as such, but a selection of shops and an information center lining the quay. Beneath the stone arches of Langelinie's old warehouses, you'll find shops that sell porcelain, amber, Danish clogs, jewelry, clothing, and other products.
Langelinie is within walking distance of most attractions, and most cruise lines offer a shuttle service to downtown Copenhagen. Also, the local bus #26 covers the same route in about 20 minutes.
Those starting and ending their cruise in Copenhagen will most likely find themselves using the Freeport Cruise Terminal.
Getting to and from the city center is relatively easy from the Freeport Cruise Terminal. An easy stroll takes about an hour, and shuttle buses and taxis take about 20 minutes.
Getting to and from Copenhagen International Airport, the primary hub for Scandinavian Airlines (SAS), offering daily non-stop and direct service to Copenhagen from gateway cities throughout the world, takes about 30 minutes by taxi or by cruise line shuttle services.
Facilities at the Freeport Terminal include restrooms, a waiting lounge with Internet access, and food and beverage kiosks.
Cruise Lines using Copenhagen Cruise Terminals as an Embarkation / Disembarking Port
Many of the major cruise lines use Copenhagen as a port of embarkation or disembarking including Azamara Club Cruises, Crystal Cruises, MSC Cruises, NCL, Oceania Cruises, Princess Cruises, Regent Seven Seas Cruises, Royal Caribbean, Seabourn, SeaDream Yacht Club, Silversea Cruises
Must See Attractions in Denmark, Copenhagen
There are a number of attractions in Copenhagen accessible to cruise passengers from their vantage point of the two cruise terminals in Copenhagen and accessible before and after any cruise based in this city.
Tivoli Gardens: Founded in 1843, the Tivoli Gardens in the center of Copenhagen is a mix of amusement park, museum and outdoor theatre that attracts millions of visitors each year. Tivoli is currently the most visited theme park in Scandinavia and the 3rd most visited in Europe.
The Little Mermaid Statue: The first stop for cruise passenges on their way to downtown Copenhagen, because The Little Mermaid, reclining on a rock at the harbor mouth, is actually not in the center of town but about two miles from downtown Copenhagen not far from the Copenhagen Cruise Terninal at Langlelinie, the Little Mermaid statue is an icon of Copenhagen for many travelers to Denmark.
The National Museum: Built in 1746 as a prince's palace, the National Museum of Denmark was renovated in the early 1990s. The museum has since lost much of its staid atmosphere and taken on a more modern ambiance. It is divided into prehistoric, medieval, Renaissance and 18th century sections and also features the royal collection of coins and medals, classical antiques, the ethnographic collection, the 'please touch' display on Greenland and the children's museum. The museum is so big that it is virtually impossible to see everything in one day. One of the museum's most famous collections is the Inuit treasure collection, one of the oldest and largest in the world with over 10,000 items displayed.
Amalienborg Palace: Home to the Danish royal family, the 1794 palace is made up of Christian VII's Mansion, Christian VIII's Mansion, Frederik VIII's Mansion and Christian IX's Mansion all around a stunningly beautiful octagonal square with Saly's equestrian statue of Frederik V in the middle. The changing of the guard takes place every day at noon.