TAMPA - FLORIDA - USA
PORT INFORMATION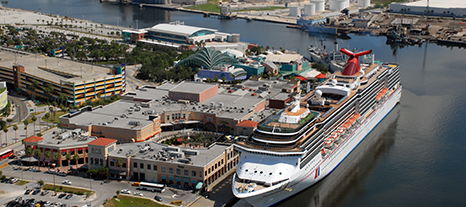 photo courtesy Tampa Port Authority

Located on the western coast of Florida, the Port of Tampa is the largest port in Florida, and Tampa Bay has become one of the Sunshine State's most vibrant vacation destinations offering a wide selection of attractions from historical landmarks to theme parks, pristine beaches to a sizzling nightlife. Tampa Bay is home to the best of everything that Florida has to offer.
Brief History of Tampa
Once the home to various indigenous cultures, and then settled by Europeans in the early 1800s, modern Tampa's prosperity began with the railroad in the 1880s and grew dramatically from that time.
Today the Port of Tampa processes almost half of all Florida's seabourne commerce, and as a cruise terminal has been steadily growing since the 1900s.
Cruise Terminals in Tampa
Located on the Ybor channel downtown, close to Ybor City, the full-service passenger cruise terminals at the Port of Tampa offer customer-friendly information areas and state-of-the-art security, all very close to some of the must-see attractions of the area and with quick access to downtown Tampa.
Cruise terminal #2 is home to Carnival Cruise Line, and
Cruise Terminal #3 is home to Holland America and Royal Caribbean International.
Tampa International Airport, offering service by most major airlines to over 60 destinations world wide, is only 20-minutes away from the Port of Tampa.
Secure long-term parking for Cruise Terminals 2 & 3 can be found at the Tampa Port Authority Channelside garage directly across the street at 810 Channelside Drive. Secure long-term parking for Cruise Terminal 6 is directly at the terminal.
Cruise Lines using Tampa Cruise Terminal as an Embarkation / Disembarking Port
Using the Port of Tampa as their port of embarkation and disembarking Carnival Cruise Lines, Holland America Line, NCL, and Royal Caribbean International offer cruises to the Caribbean and beyond.
Carnival's Legend Spirit Class vessel serves Tampa year-round, and the Inspiration offers four and five day cruises to the Western Caribbean.
Royal Caribbean International's Grandeur of the Seas is based at the Port of Tampa, and offers four and five day cruises to the Western Caribbean, Key West, Mexico and Central America.
Holland America Lines' Veendam offers 7 and 14 day cruises to the Western and Southern Caribbean and Mexico.
Must See Attractions in Tampa
Busch Gardens Tampa Bay: Come face-to-face with more than 350 species of animals roaming free on the Serengeti Plain at Busch Gardens. The adventure park features an unparalleled combination of animal encounters, live entertainment and thrill rides. As one of the top zoos in North America, Busch Gardens brings visitors face-to-face with more exotic and endangered animals than any destination outside of Africa.
Ybor City: Take a stroll down Ybor City's 7th Avenue where the aroma of cigars still lingers in the air, and day or night, the festive streets of the old "Cigar City" are filled with fun and excitement. Tampa's Latin Quarter became a little livelier with the opening of upscale retail and entertainment complex Centro Ybor in Ybor City. The $45-million, 210,000-square-foot complex is anchored by the historic Centro Espanol social club.
Florida Aquarium: Find what lurks in the depths of the dark icy-cold waters 2,000 feet below the Gulf of Mexico's surface at The Florida Aquarium, one of the top 10 aquariums in the country. See sharks, alligators, otters and penguins; touch a stingray, bamboo shark or sea star. Become immersed in interactive programs like 'Swim With The Fishes' – a 30-minute surface swim in the Florida Aquarium's largest exhibit or 'Dive With The Sharks' where certified SCUBA divers come face-to-face with five different species of shark from around the world plus a 250-pound Goliath Grouper.
Channelside Bay Plaza: This 230,000-square-foot entertainment center is located on Tampa's downtown waterfront adjacent to the Florida Aquarium and cruise terminals. Transformed from dilapidated warehouses and docks, the $35-million center includes movie theaters, restaurants, shops and nightclubs.
Other attractions in Tampa include the waterpark Adventure Island, Dinosaur World with its 150 life-size dinosaurs in an outdoor museum setting, and Tampa's Lowry Park Zoo which features 2,000 animals on 56 acres of lush, natural habitats. There are over 400,000 square feet of interactive activities to explore inside Tampa's Museum of Science & Industry (MOSI), Gameworks offers an unbelievable array of one-of-a-kind games, attractions and simulators, and in the heart of downtown is the Henry B. Plant Museum, a circa 1891 National Historic Landmark.